Editorial Note
Thank you to our generous sponsors, Sociologists for Women in Society, Center for Equity Education, Azama Development Foundation, and Sociological Practice & Public Sociology (SPPS) – American Sociological Association (ASA) for helping us make Applied Worldwide's 2023 "Why is Sociology Important?" student essay competition a success!
This essay on the importance of sociology was published on behalf of Applied Worldwide's 2023 Global Student Essay Competition. For the 2023 competition, we awarded 16 student essayists across eight countries and one US territory and will be sharing each winning essay in our "Why is Sociology Important?" essay collection.
This sociology essay was written by Dianelis Figueroa, a fourth year sociology student at University of Puerto Rico at Cayey in Puerto Rico and earned a 3rd place prize in the competition.
The Importance of Sociology in Our Society, Dianelis Figueroa
Today's society could be headed for decadence if we omit the parameters that build it. We as a society try to cement a new social community on top of a ruined one; we tend to ignore the roots that destroy the current society that can lead us to succumb to catastrophe. Sociology is an effective tool for understanding a society and is the perfect way to build a new one. She provides an opportunity to look analytically and logically at the problems that surround us and possible solutions to them. This profession is not based on emotions or feelings, it seeks the truth and, for that, we must understand that things are not always as they seem. It opens a window to political, economic and even religious questioning, since complex problems do not obtain easy and simple solutions. That is where we see the hard work of sociologists, who continually seek social welfare in all its facets. As society grows and new cultures emerge, more sociological work is required for balance. As a result of these emerging societies, new social institutions and new parameters are born to govern life in a social community.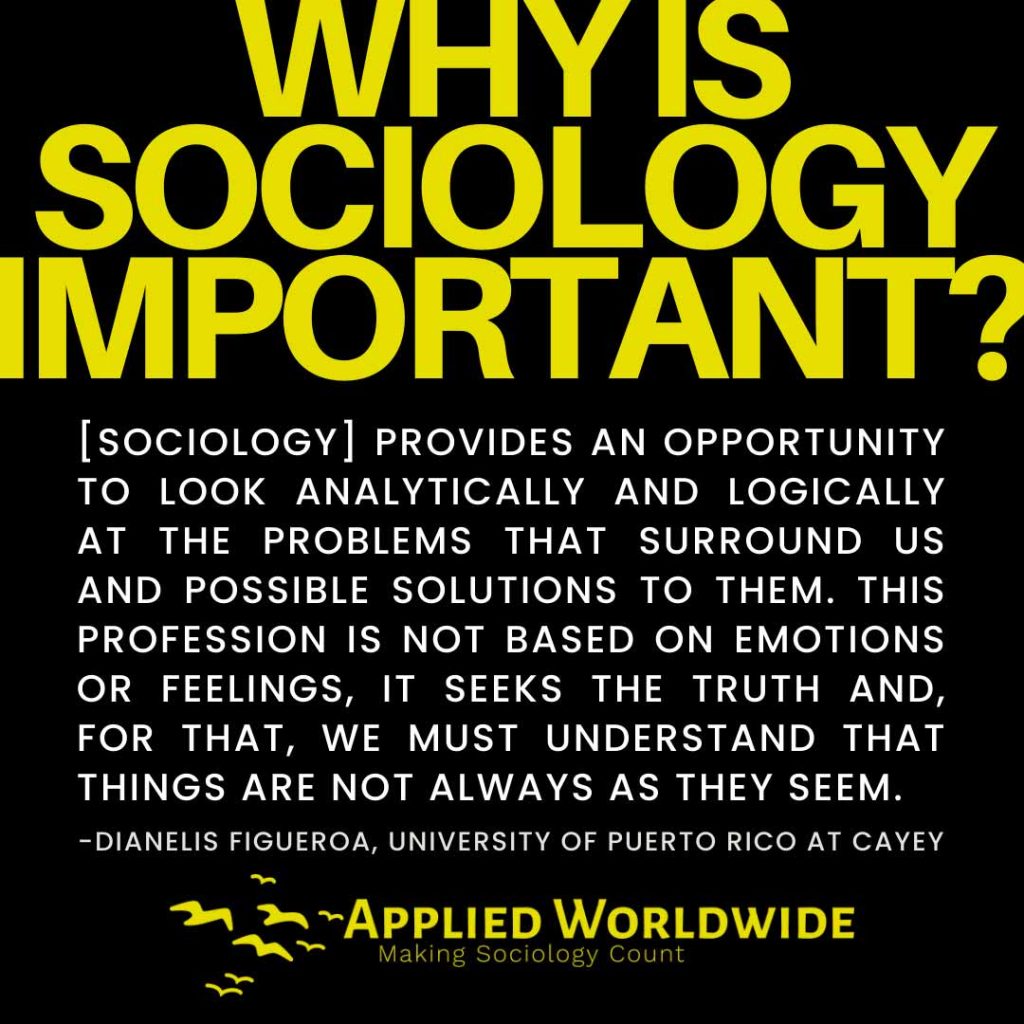 The claim and ignorance of this branch makes a clear emphasis on the structural ignorance of a social life, how it works and why it works. It is also an emphasis on how the social institutions that govern us prefer that we enjoy ignorance so that they can continue making decisions that are not favorable, but since we are unaware, we think that they are. This leads us to accept decisions, ideas and concepts that could lead us to an anomie and, with the intention of repairing it, it is no longer possible. People walk through the world not knowing that sociology has made the world what it is today. The conception of politics, economics, laws, was born thanks to sociologists such as Karl Marx, Emile Durkheim, Max Webber, Gramsci, Harriet Martineau, August Comte, Michel Foucault, Wright Mills, Talcott Parsons, among others. The biggest challenge I have encountered is the total insipience when I say that I am studying to be a sociologist. Many look at me with doubts and question whether being a sociologist is worth it, they miss the profession because, obviously, they do not understand the great value and weight that it has in the world.
The way in which we visualize life individually and as a whole is what shapes our society. That is the greatest incentive, the perception and the individual and community experience that leads us to identify if we are on the right track or not. In the 50's and 60's the great riots and the acclaimed revolutions began. They are not born from nothing, they are born from communities that saw precepts in the society in which they lived that threatened their lives as a whole. Those selfless actions were changing the course of history to accommodate future generations in a better society.
The social impact is inevitable and that is why we must have professionals dedicated to understanding these events to help us understand the complexity of the situation and how it affects us collectively. Consequently, this will help us to know how to face the new reality that arises as a result of situations that shake the foundations established by old societies. We cannot help but see how ideological differences, norms and concepts divide us today and it is increasingly difficult to understand and harmonize life in unity. We are individual, thinking and critical beings who have the decisive capacity to believe and forge what we want, but it is those same ideas that, although they are individual, affect our environment and our environment affects us. For this reason, being beings influenced and capable of influencing, we must consistently think about how we are going to impact our neighbor. We cannot alienate ourselves, be naive, and think that what we do does not disrupt the lives of others.
We see the political movements that start from the premise of seeking a pleasant and harmonious Society, which accepts the parameters established by them, but there will be a part that counteracts that movement. We have the different feminist movements, their motive is the validity of women in different environments, but from that same movement other aspects arise and they are not all aligned with the same arguments. That is not why they are invalid reasons, but it means that the perception is from different angles. For this reason, it is important to understand why there are so many different visions if it is the same reason, what is its functionality, what are they trying to achieve and how this would impact everyone's social life. We have seen how since the First Wave feminist movements have changed things for everyone, to say that only women have been affected (both negatively and positively) is to alienate reality.
Social institutions began to change, ideas and the preconception of the family were also disrupted, laws and politics took different courses with this movement. That is only mentioning the punctuality of a single movement, because there is also the movement of Martin Luther King, Rosa Park and Jackie Robinson who seem like individual struggles, but they changed the course of the history of an entire community. Without important people who understood the weight of these revolts, the politics of that time would not have changed. Claiming our ideas is up to us, but if it weren't for some sociologist who gave it a name, we wouldn't even know where to start. Today we can have the opportunity to believe in economic ideologies, knowing which ones suit us and which ones are not possible thanks to theorists like Karl Marx, who could well disagree or agree, it must be recognized that he laid the first foundations. In political aspects we also enjoy the same opportunity. We can choose what to believe and what is politically expedient, thanks to dedicated sociologists who understood that for a society to be sustainable it needs guidance.
I do not mean to point out anyone's beliefs; each one has his story, his context and his arguments to believe in what he believes, but it is about recognizing that without sociology we could not even intercept what we can do or what we should do to last over time. Sociology disrupts every area of our environment due to our own sociable nature and community life, but where the impact is forceful is the political and legal. It is there where it is decided how the community should live, because as they are legitimized social institutions and of high punitive value, weight is given to what they say and what they decide. We can take that social power and turn it into something that works for everyone, but the sad reality is that we still haven't managed to live in absolute harmony. The lack of acknowledgment of our differences and the constant search for equality has left us adrift and with many wounds because we are not looking for authenticity, but rather for puppets that can be easily handled. That's why we haven't looked for a way to elevate our differences and make them work. It takes capable and daring people who understand that society is not an object, but that we are full of life, history, complexities, context and emotions, that everything we do, we do to live in peace and I believe that this work is carried out perfect sociology.
References
Meet our 2023 Global Student Essay Competition Sponsors!