Editorial Note
Thank you to our generous sponsors, Sociologists for Women in Society, Center for Equity Education, Azama Development Foundation, and Sociological Practice & Public Sociology (SPPS) – American Sociological Association (ASA) for helping us make Applied Worldwide's 2023 "Why is Sociology Important?" student essay competition a success!
This essay on the importance of sociology was published on behalf of Applied Worldwide's 2023 Global Student Essay Competition. For the 2023 competition, we awarded 16 student essayists across eight countries and one US territory and will be sharing each winning essay in our "Why is Sociology Important?" essay collection.
This sociology essay was written by Chiamaka Onunumonu, a 12th year student at Sydenham School in the UK and earned a 3rd place prize in the competition.
Why is Sociology Important? A Never-ending Set of Knowledge, Chiamaka Onunumonu
As a sociology enthusiast there is not a question which displeases me more than if sociology is important and I have been asked it countless times. Someone once asked me its use and my dad is still trying to discourage me from the subject as he believes that it is not mentally challenging enough for me, which I could not disagree with more. How is sociology not complicated and perplexing (not even mentioning the amount of names that need to be memorised in the A-level)? I strongly agree with Durkheim's theory of sociology being treated as a science and that it should be taught at schools internationally. This social science brings a new self-awareness to the table and helps us question why we are here and what our purpose is and through that we are taught to abandon all prior beliefs on social life. While this subject is eye opening, it also brings up a paradox of impossibilities. If we are being taught sociology, is this yet another belief to make us think we are thinking outside of what we are socialised into thinking, as at the end of the day, this is still a textbook subject approved by the government and we have no true clue on how deep the ideologies of the world are in today's society and the superstructure. Sociology is a never-ending question of existence, how can we change, how have we changed?
I love sociology as I can see it play out in everyday life. This understanding of how things work gives people a great advantage and is the reason that the head of year and head of sixth form in my school are both sociology teachers and brilliant at their jobs. Through this subject I can see how my brother and father began to fight as the effects of meritocracy came into full swing and how they both fought each other for power. I see how overlooked my mother's domestic work is and her acts of 'kin keeping'. I also see my father coming home exhausted from a long day at work after being exploited and my mother acting as a 'safety valve' to calm his anger and mediate him. I can see everything play out, as if I am watching a movie that I have seen a million times before. It is fun to identify all the small things that surround us and observe all that happens. You can establish cause and effect and understand the process of things. It is insane to think that this has gone on so many times before to the point that it has been written as a theory when we are all lea to believe that our households and families are strange and unlike others. It proves that we are all humans going through the madness of life together. Although life is not equal or easy, I like to believe that sociology has and can change that, as by learning about the root of a problem, we are able to fix it. I have talked to my family time and time again about how I think that this subject should be taught in schools because you gain more self-awareness than you would have had before. In addition, this subject is highly interesting, and you can learn about your life in a way that you have not thought of before. Not only does it make us question why, but also how the world works. Why are you living life in this way? Could it change, does it have to be the same forever? How did you get to this point in your life? What was your journey and how will you continue? There is no limit to the questions that there are in sociology and in this lifetime and not everything has been done or thought of yet.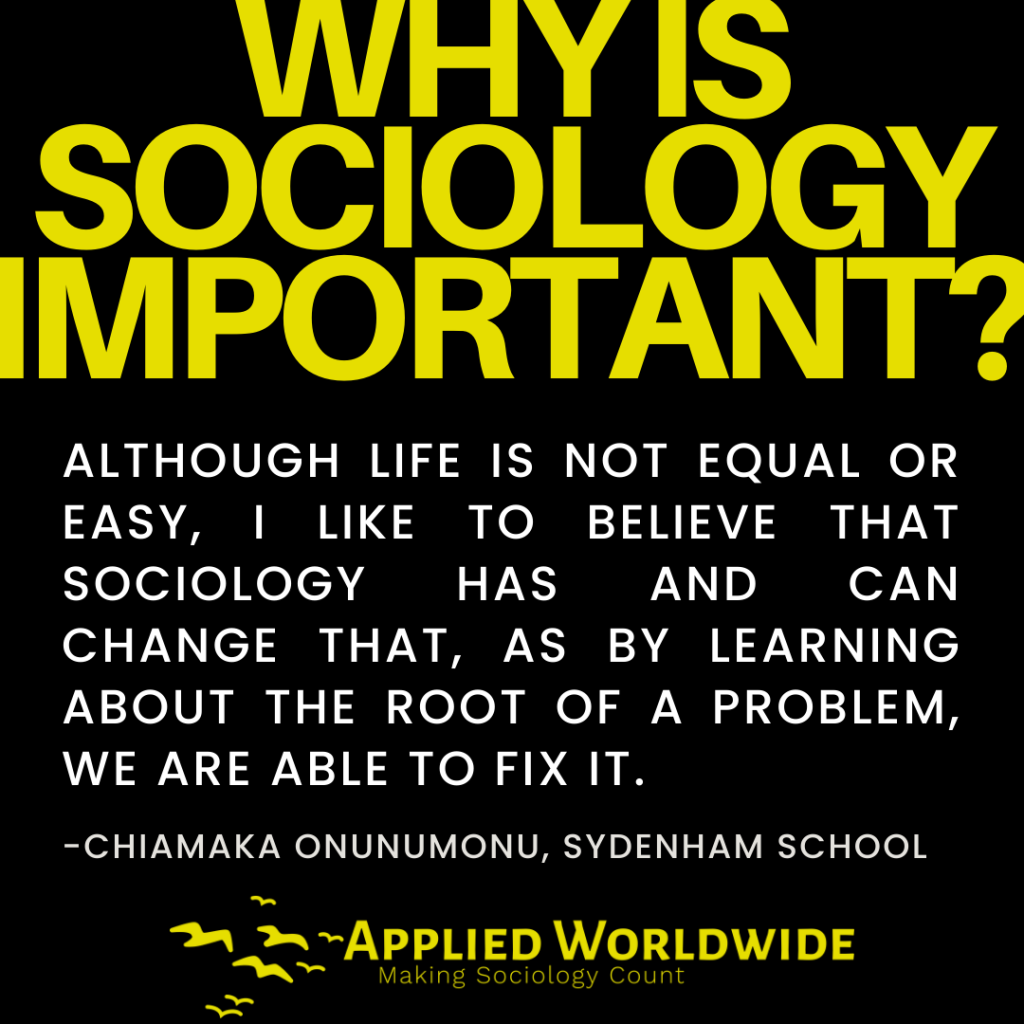 Durkheim's work holds a dear place in my heart, despite me only being taught it two weeks ago. Durkheim states that people are like atoms and that they are passive and how he believes that sociology should be studied as a science. I do not believe that people are completely passive, but I believe that there are aspects and external factors that lead to actions and so you cannot judge anyone in this world. Everything is situational. This is similar to another topic that I love which is labelling in education. Teachers, unaware of their own bias against specific students, treat them in a different way to those that they see as good, role-model students. This then leads to the student's underachievement, caused simply by their appearance, stance, voice or many other situational factors. Although this topic may seem deterministic, there is also the other side to this story, an alternate ending called polarisation. Polarisation is to go to either end of a pole and so in this example it is to go to two extremes; those who internalise the negative reaction of their teachers or those who decide to prove the teachers wrong, motivating them to work harder in their classes and rely on external exams to give them an accurate grade. In my opinion sociology ignites a spark in me from being able to see all of these patterns in the world and the cause and effect of it all. Durkheim's work found patterns in human behaviour that could become universal laws, just as there are universal laws for physics or biology. If patterns are recognised, many issues of the world could be fixed, they could understand themselves in a new way. One thing that I do know is that being a human is difficult and tiring and a lot of the time is confusing but if people began to think of the sociology of things in the same way that they thought of the English or Maths, then maybe we could learn to understand ourselves as well as everyone around us.
While having rules may make things easier at times, sociology also helps us to remember that there are a lot less rules than we think. Childhood is a social construct, people never stop developing, you do not need to do anything, you are only led to do thing by rules and morals, but at the end of the day, it is your own choice. As an adolescent in today's society, I am easily led by social media and what the internet thinks is right or wrong. It is overwhelming, I am scared to make mistakes because I see how others are treated online and I am forced to support a certain cause. When I look at all the different cultures and expectations in sociology, I realise that everything is subjective and really, I can have any opinions that I want. Some of the time I may be wrong, but we are human and so who is not? I look at my studies and find it crazy how blind we can become when led by the wrong influence. As humans, we are social. Most people find comfort in being around others, even if it is only one person and it has a great effect on mental health. We take care of our physical and financial health and so it only makes sense to take care of our place in society and identity too. We live in a society, and we need to make sure that that society is meeting our needs and sociology illustrates not only where our needs are being met, but also where we need to improve and change.
In this subject the understanding of different cultures is emphasised. Sociology teaches various different world views and the shifting key importance of each culture, for example how in the UK individuality is valued the most, or how in China, education is seen as the most valuable and important aspect of life.as someone who is being pushed towards the route of university, it is interesting to see all of the subjective and different views on what intelligence is to people, it could be navigation or the ability to communicate or create opportunities for yourself. Not only does it show contrasting views of culture, but also positions of people in society. It shows part of the thought process of people in different positions, like social class, gender and positions of power. We are able to see why the New Right believe that people should not receive benefits, although their view comes from a place of privilege as they have never experienced the struggle that those receiving benefits go through daily. Women fight for recognition and the battles are seen in sociology, through research which bring dark figures in domestic violence and extreme gender exploitation to light. Sociology shows a feminist perspective, showing how men cannot relate to what women have been through or empathise fully with the injustice that the women go through every day as it is like hearing of a colour that they have never seen. There are so many groups that go through day-to-day struggles that are overlooked in society and sociology has not overcome everything but is on its way to doing so through the many people who, like me, see themselves pursuing their passion in sociology. Everyone's experiences are different, and sociology wants to help with each path of life that we chose to take, from whatever position we are in.
Sociology means the world to me, as people mean so much to me and I want to do as much as I possibly can in my lifetime to understand others and help them live their lives as happily as possible. There is no end to the knowledge of this subject and while that is slightly annoying as I would like to learn all of it, it means that I will never stop discovering as the world continues to change. SOCIOLOGY RULES!
Meet our 2023 Global Student Essay Competition Sponsors!