Editorial Note:
The society for the Study of Social Problems (SSSP) is the preeminent professional organization for the study of social problems and has recently published the 2nd volume of their Global Agenda for Social Justice. Through collaboration with SSSP, Applied Worldwide is proud to bring you this exclusive interview series providing additional author insights.
This interview covers the social problem of language endangerment in the Pacific as discussed by Dr. Jason Brown and PhD Candidate John Middleton. Get your full copy of Global Agenda for Social Justice 2 here.
Social Problems as Social Justice Issues
Social problems are a major focus in the field of sociology. As described in the editorial introduction to the Global Agenda for Social Justice 2, SSSP shifted focus to not only studying social problem but also searching for their solutions. This new focus came with a wider shift in the discipline of sociology to not only study society, but change it for the better, introducing a social justice focus to the study of social problems.
With our mission to enhance a vision of applied sociology, Applied Worldwide is proud to bring you the following exclusive interview with Dr. Jason Brown and PhD Candidate John Middleton about their chapter on climate migration and language endangerment as social justice issues in the Global Agenda for Social Justice 2.
How were you introduced to climate migration and language endangerment in the Pacific and what motivated you to study the issue?
We became aware of the problem as we conducted fieldwork in each of our respective communities, Bougainville and Tokelau. While climate change is a fairly obvious problem, the impact that it has on actual people still remains very abstract. Working with smaller, sometimes more isolated communities, we have learned that there are dynamics that are often overlooked by the outside world. What motivated us was the urgency around the problems of migration and language loss, and the fact that there is apparently not much being done about this, either in terms of government action, or in terms of policy development.
How would you describe language endangerment and why is addressing it an urgent concern?
The problem we outline in our chapter is a simple one, but one where nobody has really made the connections yet: climate change is causing migration without much hope of return, and this type of migration will undoubtedly result in the loss of language and culture. It is an urgent concern because we know that the effects of climate change are increasing drastically, that climate migration is going to become much more widespread, and yet very few regions and nations have prepared for this. Many communities around the world will be facing increased pressures in terms of migrating away from their homelands, and losing their language, cultural practices, and traditional lifeways is an imminent threat.
What can organizations and communities do to combat language endangerment as a result of climate migration?
Different communities and nations are in different stages of preparedness. Some have been proactive in seeking concrete solutions, some have not. There have been various recommendations or policies under debate or development in different parts of the world. In one of the case studies that we explore, one community (and autonomous region) has initiated a policy for relocation, including setting aside land for climate migrants to live on. In another case study, there are already protective measures in place for indigenous languages, which could potentially be mobilized to ensure the protection of other languages.
What makes the sociological solutions outlined in your chapter both unique and important?
In our chapter we outlined several recommendations regarding policy related to migration and language. These recommendations ranged from creating infrastructure that would support climate refugees, to policy changes that would promote the use of indigenous languages in new locales, such as financing language preschools, to initiating climate litigation. Social problems are often deeply multiplex, and require expertise from different areas. In our work, we hope to help inform the sociological approach to the problem in a way such that can facilitate public debate about policy.
If you had to choose one major take-away from your chapter to share, what would that be?
Social problems can indeed be complicated!
When investigating large-scale problems, some of the findings are surprising, and sometimes a range of new problems are discovered. The major take-away from our chapter is that a 'wicked problem' like climate change can have a negative impact on society in many different ways; sometimes ways that were unanticipated, such as language and cultural endangerment.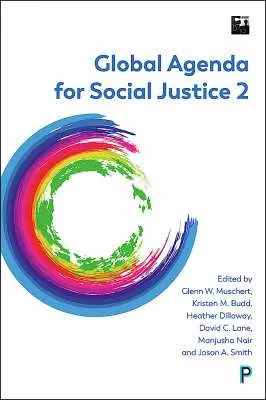 Meet the Authors
Jason Brown is Associate Professor in Te Puna Reo | the School of Cultures, Languages & Linguistics at Waipapa Taumata Rau | the University of Auckland. He has worked with endangered languages and indigenous communities throughout his career.
John Middleton is a PhD candidate in Linguistics at Waipapa Taumata Rau | the University of Auckland, and has been conducting research with the Tokelauan language and community.
More Interviews from our Global Agenda for Social Justice Series
Applied Worldwide has several interviews with authors writing about different social justice topics around the world. Some of the other topics include fatphobia, gender based violence, and more. View the whole series to see all of the topics on the Society for the Study of Social Problems' Global Agenda for Social Justice.