Definition of Social Justice
Social justice is the goal of decreasing systemic oppression to provide equal rights and opportunities to everyone, regardless of their social status. The goal of social justice is important because it aims to improve social circumstances for both individuals and groups. By improving social circumstances for individuals and groups, we can ensure society is progressing toward a more equitable and enjoyable future for all. This blog covers the definition of social justice across various contexts and with a plethora of examples to provide a clear picture of what social justice is and why it is important.
Examples of Social Justice Initiatives
Examples of social justice often include the centuries-long fights against racism, sexism, and classism. For all three, we can use the critical theory perspective from sociology to understand the need for social justice in these areas.
First, let's think about racism as an institutionalized form of discrimination based on race. Critical theory helps us understand how power is involved in patterns of racism, whether it be economic power, political power, or other forms of power that exist in society. Applying social justice to racism means focusing on ways we can diminish institutionalized discrimination to provide equal rights and opportunities to everyone regardless of their race. That effort might take a specific focus on restorative justice and the over-representation of Black Americans in the US prison system.
We can also apply the same idea to both sexism and classism. If we think of sexism as the systemic oppression of women and other gender minorities such as trans folx, we can use a social justice approach to eradicate that oppression and provide a more gender-equitable society. The example of reproductive justice as lens to understand and fight against discriminatory policies that primarily impact women and their reproductive rights can be useful here.
For class inequality, we might focus more acutely on the concentration of economic power both in individual nations as well as globally. If we use the example of environmental justice, we can see how the concentration of economic power among a small group leaves those in the lowest-income bracket—who are often also marginalized by their race—more susceptible to environmental toxins in their neighborhoods, subsequently adversely effecting their health outcomes.
Regardless of the form of systemic oppression we decide to focus on, social justice will inevitably be the answer to eliminating it.
Social Justice in the United States
In the United States, social justice has become somewhat of a buzzword, and one that does not always come with a positive connotation. Sociologists might argue that is because groups in power both overtly and covertly work to maintain their power. That means racial, gender, and social class groups with the most power—such as white folks, men, and wealthy elites—often work in their own interest to resist social justice efforts that might mitigate oppressive practices and policies.
Some examples of social justice issues and perspectives in the United States include environmental justice, restorative justice, and reproductive justice.
Environmental Justice
Environmental Justice is a social movement focused on promoting policies that support healthy, livable, and pollution-free environments for marginalized groups who have historically been subjected to poor environmental living conditions. The environmental justice movement was championed by people of color, namely Black Americans, whose neighborhoods and communities have historically borne the brunt of large-scale and dangerous pollution. As a result of these historical conditions, activists have coined the term environmental racism to describe the disproportionate impact of poor environmental policies on marginalized racial groups.
Sociologists often study the relationship between the natural environment and human behavior. For an in-depth analysis of environmental sociology check out our article Environmental Sociology Applied to the Climate Crisis. In this article, sociologist Muib Shefiu discusses climate change from a sociological perspective, detailing the role of media, government, and the economy. Furthermore, sociologist Luis Alberto Peniche Moreno discusses how energy laws in Mexico impacts the environment in our article Energy Law in Mexico and the Effects on the Environment.
Having such a keen eye on how the environment and human behavior impact one another makes sociologists especially equipped to dissect issues of environmental justice. Whether it comes in the form statistical research demonstrating the health impacts of pollution in non-white neighborhoods, or a photovoice project aimed at lifting the voices of communities fighting against oppressive policies that leave their environments polluted, sociologists are consistently contributing to the environmental justice movement.
Restorative Justice
Restorative Justice is an approach to criminal justice that focuses on reconciling for harm done while also pushing back against the dehumanization often present in the current criminal justice system. While justice for victims lies at the center of a restorative justice approach, the practices involved in this approach to crime also consider how we treat those who are prosecuted for crimes. In the restorative justice framework, rather than violations of the law causing guilt in our criminal justice system, violations are seen as causing harm to victims and communities. Restorative justice, therefore centers the victim's experience rather than the perpetrator's guilt.
Taking a restorative justice approach provides potential for addressing mass incarceration in the US and the racism this era has allowed. For example, restorative justice practices challenge our systems to rely less on incarceration because the aim is not punishment for crime, but rather healing and justice for victims.
Many sociologists study crime in society. Check out this interview with a student studying crime in Nigeria for an one experiential outlook on specializing in the sociology of crime. Specialization in crime goes by a variety of names in sociology including crime, deviance, and criminology. But, more and more we are seeing courses and specialty degrees surrounding criminal justice. Natalie Maldonado, a student of sociology, writes about how sociology can inform restorative justice in her essay Criminology and Justice Studies: A Career Using Sociology.
Reproductive Justice
Reproductive Justice is a movement and framework developed by Black women in the United States to address social justice issues related to reproduction and reproductive rights. When reproductive rights come up, our first thought is often abortion rights and the pro-choice movement. But, reproductive justice reaches beyond the single issue of abortion and advocates for access, rather than choice. According to one leading organization in this movement, SisterSong, the framework analyzes power systems, addresses intersecting oppressions, and centers the most marginalized groups to join together across issues and identities.
Sociologist and reproductive rights expert Dr. Elle Rochford wrote an eight-part blog series for Applied Worldwide following the overturning of Roe v. Wade in the US in June of 2022. The series, "Get in the Repro Know," covers everything from explaining what Roe was—and wasn't—to the grim history of forced sterilization in the US. Dr. Rochford's blog even takes the reproductive justice framework outside the US to discuss abortion abroad.
We are incredibly proud to house numerous pieces across Applied Worldwide's digital library that use a reproductive justice framework to discuss important issues around reproductive rights and motherhood. Two final articles to get your wheels turning about reproductive justice are Little Fires Everywhere: A Sociological Conversation from Dr. Stephanie Wilson and A Review of Motherhood and Choice by Amrita Nandy from PhD student Maria Aishwarya.
A Global Agenda for Social Justice
As a US-based organization, most of our experience with social justice issues concerns those in our home nation. With that said, we are proud to partner with The Society for the Study of Social Problems (SSSP) to promote the second volume of their book Global Agenda for Social Justice, which zooms out on social justice issues to take a global perspective. As an edited volume, the book includes chapters from a variety of authors, some of whom we have had the pleasure of interviewing for our Global Agenda for Social Justice Author Insights Series.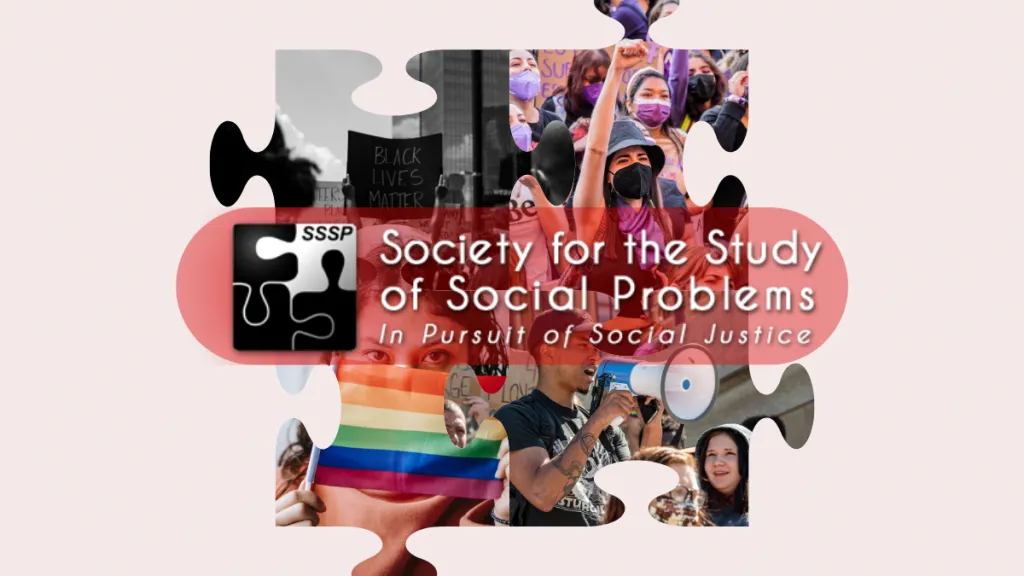 Global Agenda for Social Justice 2 covers a wide array of topics such as fatphobia, gender-based violence, COVID-19 vaccine inequality, language endangerment, climate change, and more. You can purchase the full volume from Policy Press by following this link.
Applied Worldwide has also published several articles where our writers contemplate social justice across the globe and in their own communities. One example is an article on the coup in Myanmar from contributor Aduwo Ayodele. Another example is contributor Adamu Usman Garko's article Discussing the #EndSARS Protests in Nigeria. Lastly is an article from Luis Alberto Peniche Moreno on electoral violence in Mexico.
Social Justice Careers for Sociologists
Social justice work, regardless of where it happens in the world, can take many forms, including careers that focus on specific initiatives. Sociologists often find themselves in such careers due to the usefulness of both sociological theories in understanding social justice issues and sociological research in providing solutions to those issues. Below are a few lists of profiles of applied sociologists whose work is dedicated to social justice in the categories of policy, healthcare, criminal justice, and higher education. Click on the links below to learn more about each career.
Policy Careers
Healthcare Careers
Criminal Justice Careers
Higher Education Careers
Social Justice Quotes
To end this article, we share a few of our favorite sociological quotes on social justice below. If you enjoyed this article and found it informative, don't forget to share with your colleagues, students, and friends!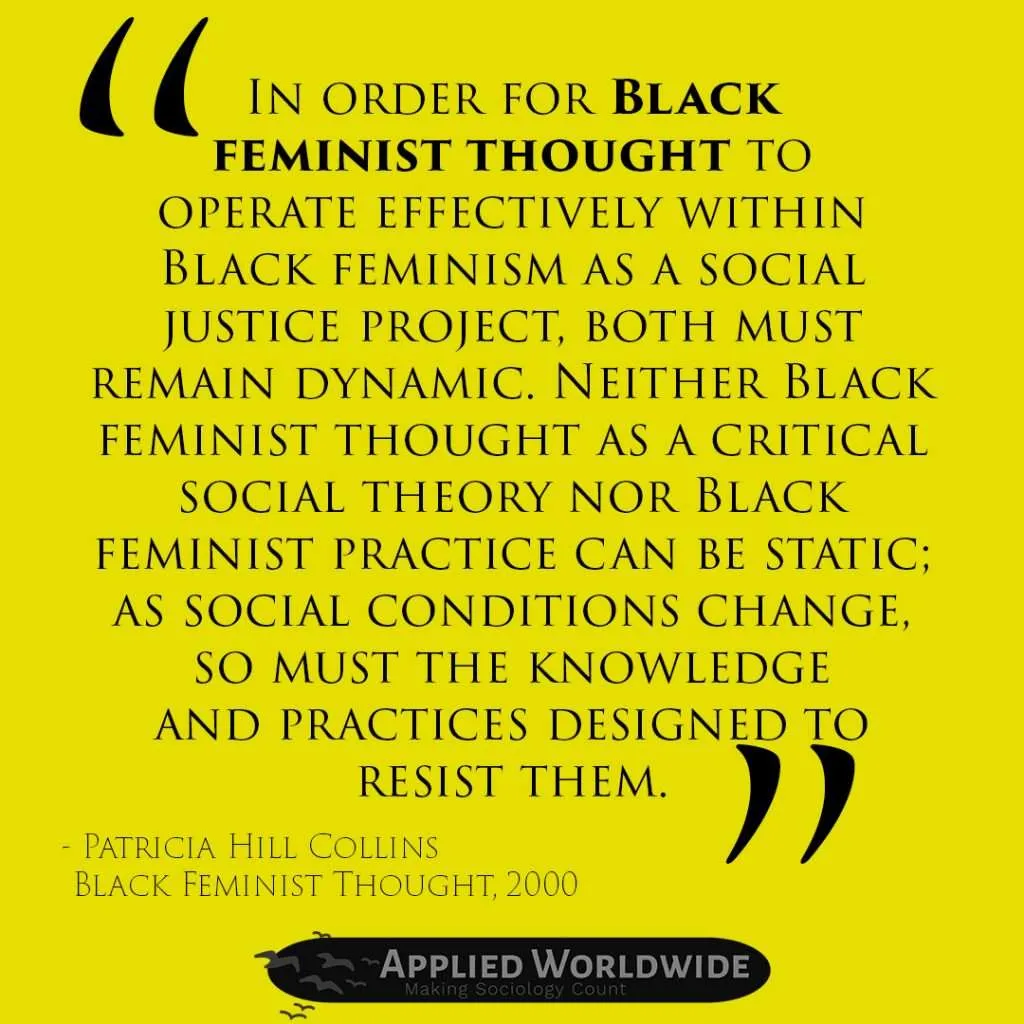 In order for Black feminist thought to operate effectively within Black feminism as a social justice project, both must remain dynamic. Neither Black feminist thought as a critical social theory nor Black feminist practice can be static; as social conditions change, so much the knowledge and practices designed to resist them.

Patricia Hill Collins, Black Feminist Thought, 2000
In short, [matters of personal freedom] are the proper subjects of scientific investigation. The only science that can deal with them is sociology. Their study and solution belong to applied sociology.

Lester F. Ward, Applied Sociology, 1906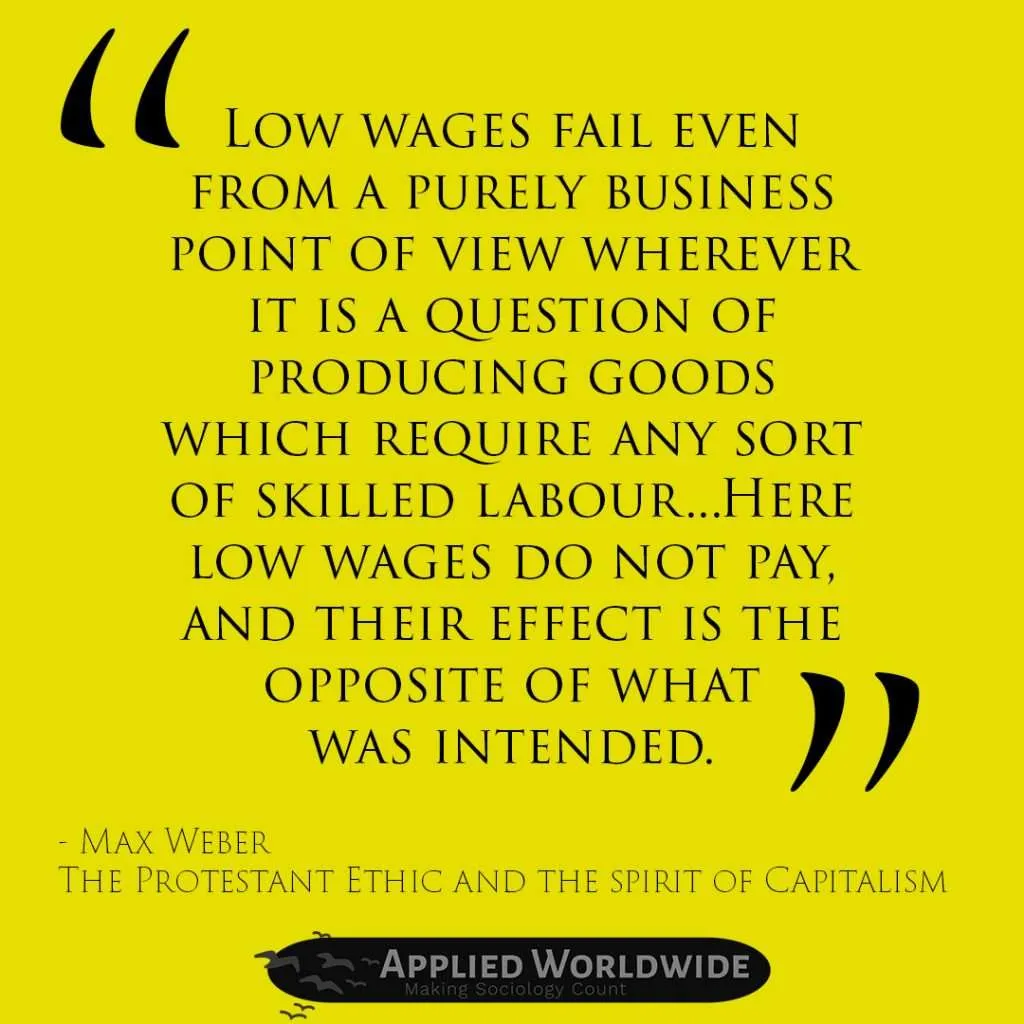 Low wages fail even from a purely business point of view wherever it is a question of producing goods which require any sort of skilled labour.l.here low wages do to pay, and their effect is the opposite of what was intended.

Max Weber, The Protestant Ethic and the Sprit of Capitalism, 1905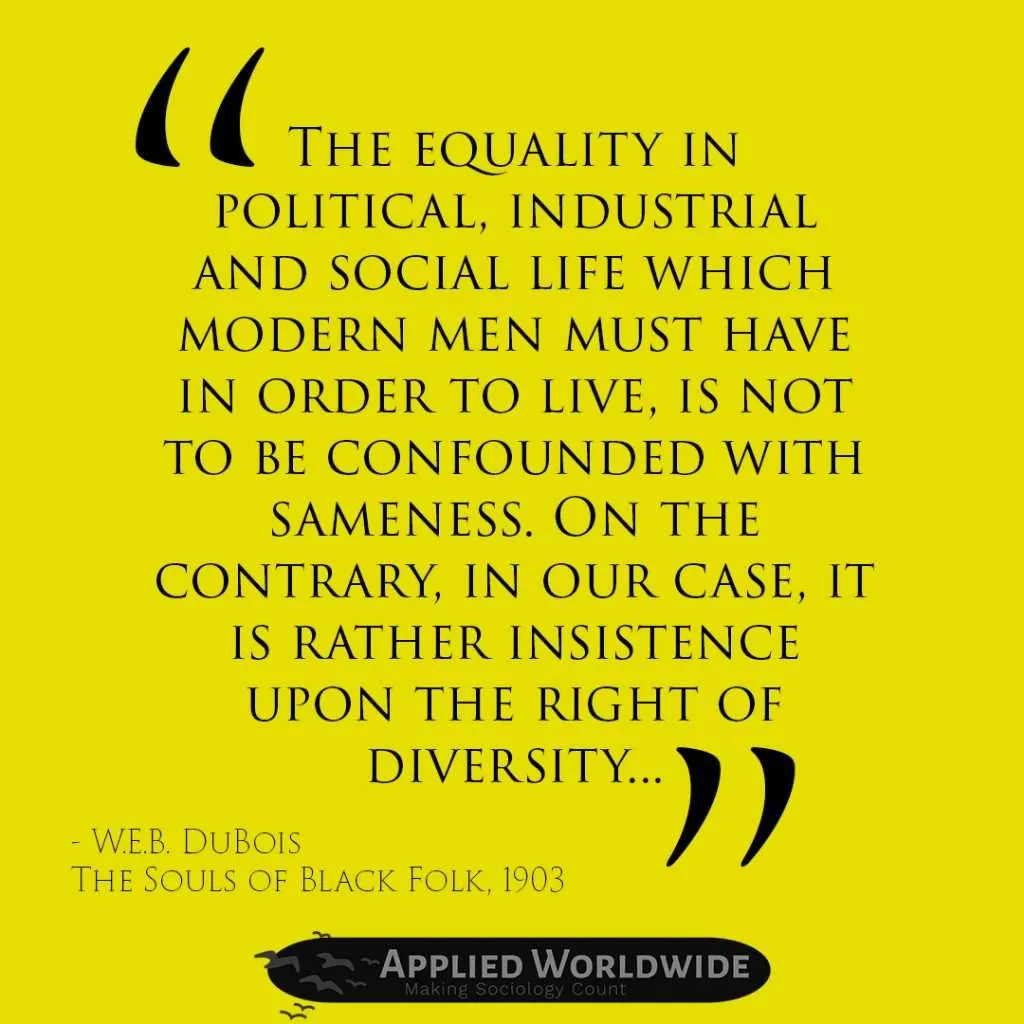 The equality in political, industrial and social life which modern must have in order to live, is not to be confounded with sameness. On the contrary, in our case, it is rather insistence upon the right of diversity…"

W.E.B DuBois, The Souls of Black Folk, 1903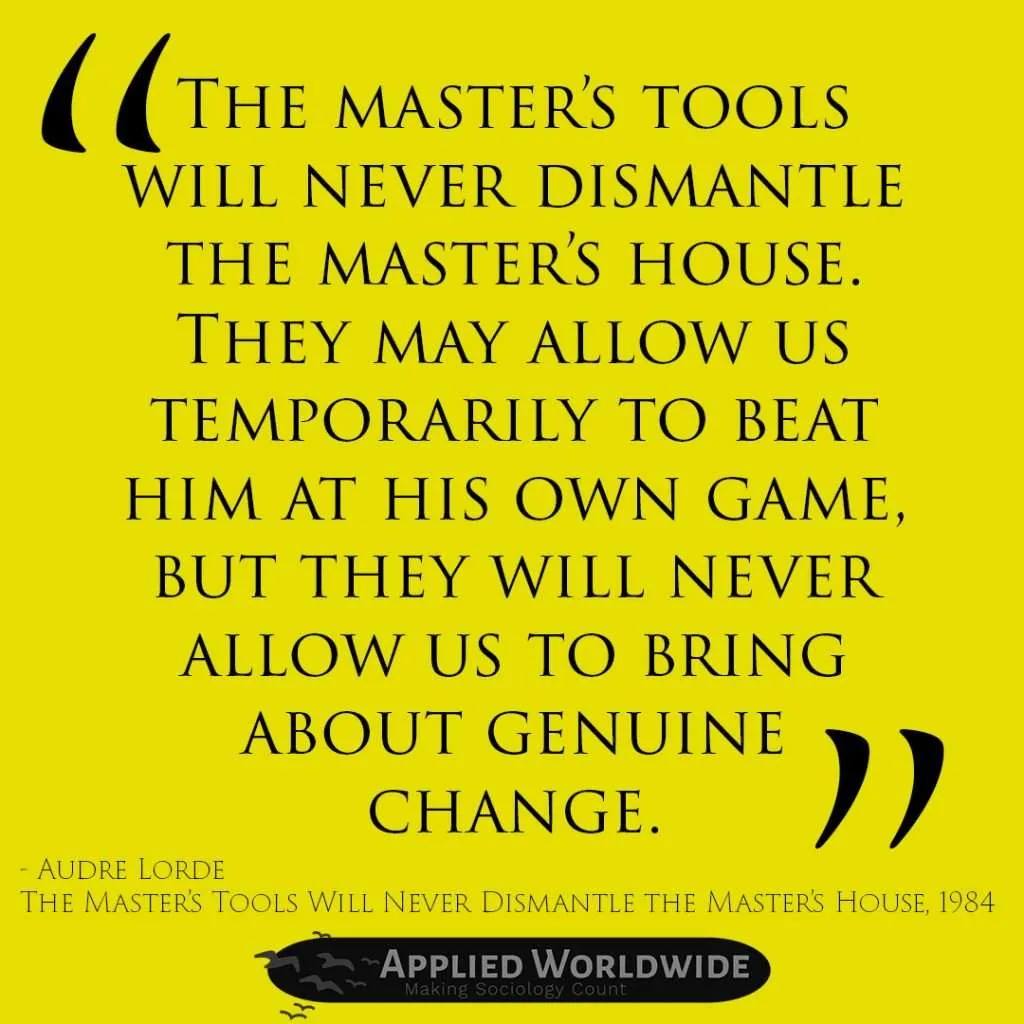 The master's tools will never dismantle the master's house. They may allow us temporarily to beat him at this own game, but they will never allow us to bring about genuine change.

Audre Lorde, The Master's Tools Will Never Dismantle the Master's House, 1984