Editorial Note
Thank you to our generous sponsors, Sociologists for Women in Society, Center for Equity Education, Azama Development Foundation, and Sociological Practice & Public Sociology (SPPS) – American Sociological Association (ASA) for helping us make Applied Worldwide's 2023 "Why is Sociology Important?" student essay competition a success!
This essay on the importance of sociology was published on behalf of Applied Worldwide's 2023 Global Student Essay Competition. For the 2023 competition, we awarded 16 student essayists across eight countries and one US territory and will be sharing each winning essay in our "Why is Sociology Important?" essay collection.
This sociology essay was written by Sarah Shaan, a third year sociology major at Indraprastha College for Women, University of Delhi in India and earned a 3rd place prize in the competition.
Doing Sociology: Creating a Space for Everyone, Sarah Shaan
When I was in class 12th, India was going through a chaotic time with amendments being made to the Indian Citizenship Act in 2019. As a result, there were several protests in many parts of the country. Belonging to a minority community in India, I understood from the public sphere discussions that the Act was discriminatory against Muslims, especially the poor Muslims. However, my voice did not find a space in the countless discussions going on in my school class WhatsApp groups. Even young students who were studying humanities and viewed themselves as 'politically and socially aware', believed that Muslims were overreacting. 
As social scientist Ghazala Jamil puts it, Muslims are often seen as backward with their sentiments hurt irrationally. My attempts to make others understand the discriminatory features of the Act failed. I was constantly bombarded in class groups with videos of protestors creating a 'ruckus'. The onus was put on me (as a Muslim) to condemn them. With school almost over, I prayed to God to give me a space in a college where I could voice out, debate and discuss instead of being vilified and blamed for what my community did, or what they were going through. A common theme one can find in works about Muslim communities is that the problems faced by them are blamed on their religion, and hence, any opinions I had were rendered useless. In my time in school, the Muslim issues or talking about Muslims, in general, were limited to aesthetics and food. Terms like 'adab' (a salutation) were used randomly when talking to Muslims as well as demands for biryani were made. But there was no other engagement with issues that Muslims face. 
But God heard my prayers! Getting admitted into BA (Hons.) Sociology was a blessing in disguise. While going through the Instagram account of my department at Indraprastha College for Women, I came across a 'statement of solidarity' put out by the department for those who have been suffering in the protests against the Act. I thought to myself 'Maybe I belong here?'. 
And after three years of engaging with the discipline, I can proudly say that Sociology is the place to be for anyone who believes that they do not belong. With wonderful professors introducing us to enthralling theories and coming across works of sociologists on minority communities, I truly felt like that there was a space I belonged to. As Gopal Guru highlights, theorization gives voice to the powerless. I truly felt like I had a voice, reading the works of various prominent scholars. 
Being a part of a public university, I was able to engage with people belonging to diverse backgrounds. While the Muslim representation was less in class, it was diverse to the extent that the three Muslims in the class belonged to three different states and regions – Delhi (North-Central India), Assam (North-East India) and Kerala (South India). Examples in the class always included ones that everyone could relate to, ranging from generic ones to ones that Muslims, Assamese and those belonging to other socio-cultural identities could relate to. Sociology, for many, thus became a space of inclusion. Even the faculty is diverse – with representation from different corners of the country cutting across identity spectrums. 
I am grateful to the faculty in my college as they made sure to introduce sociological imagination to us in ways that would seem interesting to undergraduates. Young undergraduate students are often intimidated by massive theories in a discipline like Sociology and hence, our professors made sure to introduce and engage us with the fun and interesting parts of Sociology as well – such as conducting empirical studies! Henceforth, with the encouragement of my professors, I was able to present two research papers related to Urban Muslims and secondly, Muslim students and their experiences. Indeed, one can find the joys of doing Sociology in talking to people and conducting these empirical studies. As sociologist Janaki Abraham put it so eloquently in her lecture at IPCW on 17th January 2023, it is a joy to notice the patterns in micro-processes, to study the difference between rules and praxis and to witness the negotiations of people with the social structures. From understanding the caste, class and gender dynamics behind one of the basic necessities – food to studying how women negotiate with their everyday realities to occupy space in a world that usually favors men, the insights that sociology offers are wide-ranging. 
Doing Sociology is all about questioning the everyday and the mundane, noticing patterns you never thought existed and differentiating between the right, wrong and the gray. But at the same time, I think it somewhere shatters any rosy outlook one had towards any social institution. I remember I used to watch shows and series with such fervor but becoming a student of Sociology, I am now annoyed and close to tears when I notice the disturbing patterns that exist in relationships. Being a student of Sociology has me crying at  6 a.m while I binge watch a Pakistani show and notice the power dynamics that exist in heterosexual relationships.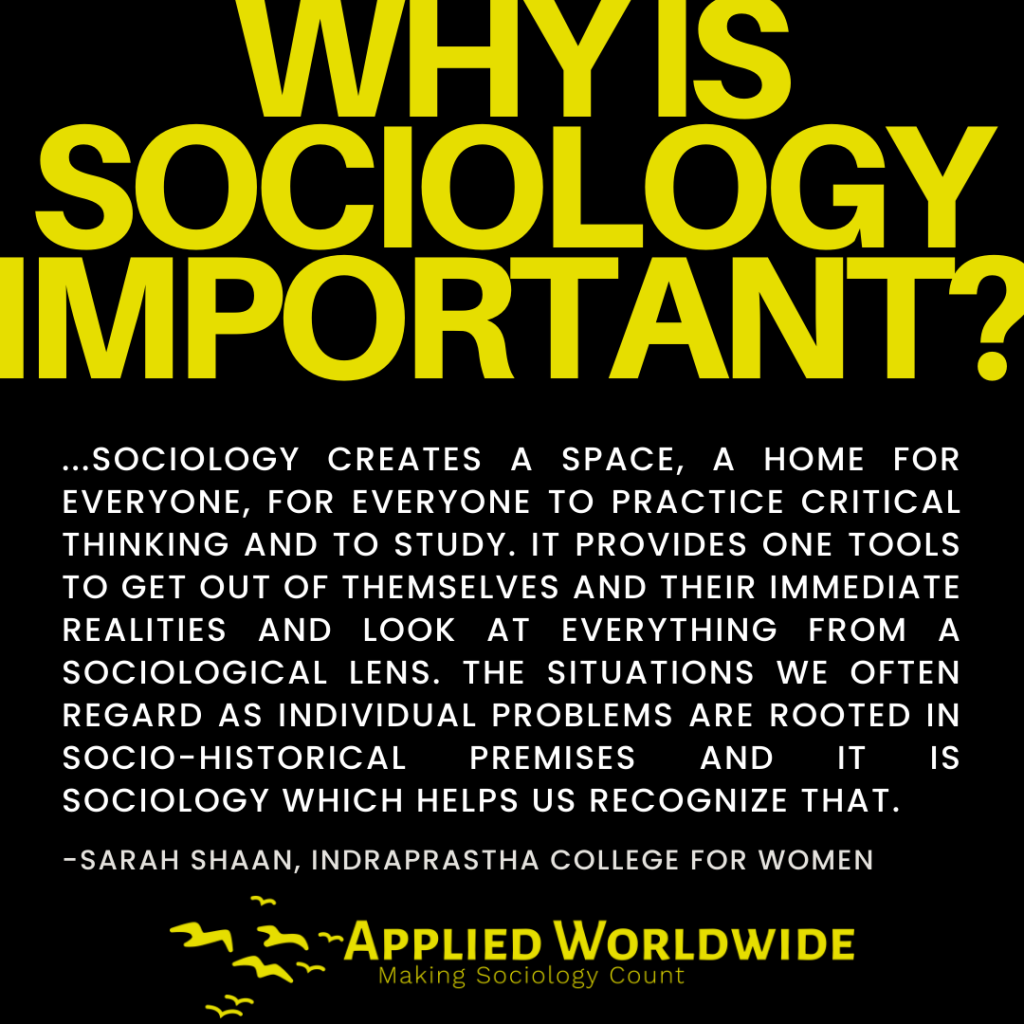 However, one thing that Sociology can offer is to never let one be bored. From analyzing wedding videos to studying Snapchat filters, there are vast fields in Sociology with new ones opening every single day that one can explore in numerous ways. From studying the digital to making the digital a field site itself, sociology holds utmost importance in a constantly progressing world. From reading Lila Abu-Lughod's 'Do Muslim Women Really Need Saving?' to B. R. Ambedkar's 'Annihilation of Caste', Sociology creates a space, a home for everyone, for everyone to practice critical thinking and study. It provides one the tools to get out of themselves and their immediate realities and look at everything from a sociological lens. The situations we often regard as individual problems are rooted in socio-historical premises and it is Sociology which helps us recognize that. Hence, it is important to 'do' Sociology, to learn about the world around us and to look at everything from a critical lens.
Meet our 2023 Global Student Essay Competition Sponsors!