Editorial Note
Thank you to our generous sponsors, Sociologists for Women in Society, Center for Equity Education, Azama Development Foundation, and Sociological Practice & Public Sociology (SPPS) – American Sociological Association (ASA) for helping us make Applied Worldwide's 2023 "Why is Sociology Important?" student essay competition a success!
This essay on the importance of sociology was published on behalf of Applied Worldwide's 2023 Global Student Essay Competition. For the 2023 competition, we awarded 16 student essayists across eight countries and one US territory and will be sharing each winning essay in our "Why is Sociology Important?" essay collection.
This sociology essay was written by Muhammad Abubakar Magayaki, a second year English and Literary Studies student at Yobe State University in Nigeria and earned a 1st place prize in the competition.
Nigeria's National Disunity, Religion as a Manipulative Tool for Polarization: A Critical Sociological Analysis, Muhammad Abubakar Magayaki
Sociology is a vital field of study that provides insight into the interplay between individuals and society. According to Anthony Giddens "Sociology is a way of seeing the world that enables us to understand the links between individuals and the social structures in which they live." It is a discipline that has important implications for a wide range of fields, including politics, economics, culture, and religion. In Nigeria, sociology has played a critical role in shaping political campaigns and elections, particularly with regards to its impact on religion. 
Nigeria is a highly religious country, with over 80% of the population identifying as either Christian or Muslim, and this division is often being manipulated by politicians to get favorable allegiance and votes. Sociology has helped us understand this role of religion in Nigerian society, including its impact on social stratification, political participation, and social change. As Peter L. Berger, one of the most influential sociologists of the 20th century, once said, "Religion is the most important social force, shaping the beliefs, values, and practices of its people." In his book The Social Reality of Religion, Berger emphasizes the importance of religion as a social force that shapes people's beliefs, values, and practices. In the context of Nigeria, where religion plays a significant role in the lives of many people, Berger's statement is particularly relevant. 
During political campaigns and elections, religion often plays a significant role in shaping voter behavior and decision, a reality which is deeply ingrained in the social fabric of our nation where there is a long history of religious conflict. In the 2015 presidential election, the two main candidates were Muhammadu Buhari, a Muslim, and Goodluck Jonathan, a Christian. Religion played a key role in shaping voter behavior and decision, with many voters casting their ballots based on the religious affiliation of the candidates. Most of the voters in the North, where Muslims were majority voted Buhari and voters in the South and South East voted Jonathan. This demonstrates a clear political divide as influenced by religion, at a time when we should put national interest over religious identity of political candidates to determine the end route of our democratic franchise. 
The religious influence on voter behavior has not only played out at the presidential elections in Nigeria most of the times, but also transcend to state-level elections which renders the immersing impact of this manipulation too gross to bear. In the recent gubernatorial election in Lagos state, religion was again a major factor. The two main candidates were Babajide Sanwo-Olu, a Muslim, and Jimi Agbaje, a Christian and religion played a significant role in shaping voter behavior, with many voters casting their ballots based on the religious affiliation of the candidates. 
The ramification of using religion as a tool to divide people has been unfortunately instrumental to Nigerian political elites, and in both of these examples, sociology has a critical role to play in helping to understand the complex interplay between religion and politics thereby creating a crystal awareness so that voters can vote based on competence and track-record, and not be baited to their sentimental weaknesses which may not work out well for the unity and progress of our country. 
As noble as this realization, I personally had been a victim of religious politics for a very long time, largely because of my base in Northern Nigeria where Islam is the major religion. Whenever election comes, not only the manipulative influence of political elite who would at all cost bid allegiance to their chosen candidate while enchaining religious common grounds and make the whole situation seem as a game of religious representation, but also the raven influence of religious clerics, who would use their religious centers to preach same as a clarion call of God and persuade people to see the elections as opportunities to vote into powers a religious representative, and make doing that appear to be an act of worship. This twofold manipulation has enslaved the mindset of so many Northerners, especially youths and women who constitute the majority of the votes. 
In the recently 2023 general elections, I have been active on social media and cannot fathom the influence of religion on our campaign atmosphere. The presidential candidature was more complicatedly nuanced and interesting more than the previous ones down the history lane of Nigeria's presidential seat bidding. This time, two strong Muslim candidates from the North, Alh Atiku Abubakar of the People's Democratic Party (PDP) and Dr. Rabiu Musa Kwankwaso of the New Nigeria People's Party (NNPP) contested for the presidential seat, while another muslim Bola Ahmed Tinubu of All Progressive Congress (APC) from South-south, and Peter Obi, a Christian Igbo from South-East joined the race for the number one seat in the country. 
All of a sudden, the conservative northern Christians dumped their regional candidates as often played, and supported the southeastern fellow Christian candidates against the Muslims in the county, who were left to pick one of the three Muslim candidates. More complicating is the fact that, the APC, who was expected to follow the trend and select a Christian Vice Presidential candidate just like PDP did, surprised Christians by picking Kashim Shettima from the North (making the North having three candidates: two presidential and one vice presidential candidates). Even though the APC justified that as a strategic act of winning numbers, because the North has higher votes than the two other regions combined, the conservative Northern Christian saw that as a slap to their face and interpreted it as downgrading the significant presence of their religion and a demeaning act to the Christian capacity for the vice presidential seat. This turmoil led to the general Northern Christians' decision to support Peter Obi of the South-Eastern region. And the Fellow Christian of the South-south and the South-East joined the train, and the whole presidential political discourse turned into a polarized race between the two major religious in the country. 
The effect of this religious polarization to presidential discourse was imminently insurmountable as it divided the country more, reinforced hatred and hate speech on social media, which buried the actual interest of the nation and the keen concern over who has the capacity to lead the country towards unity and progress.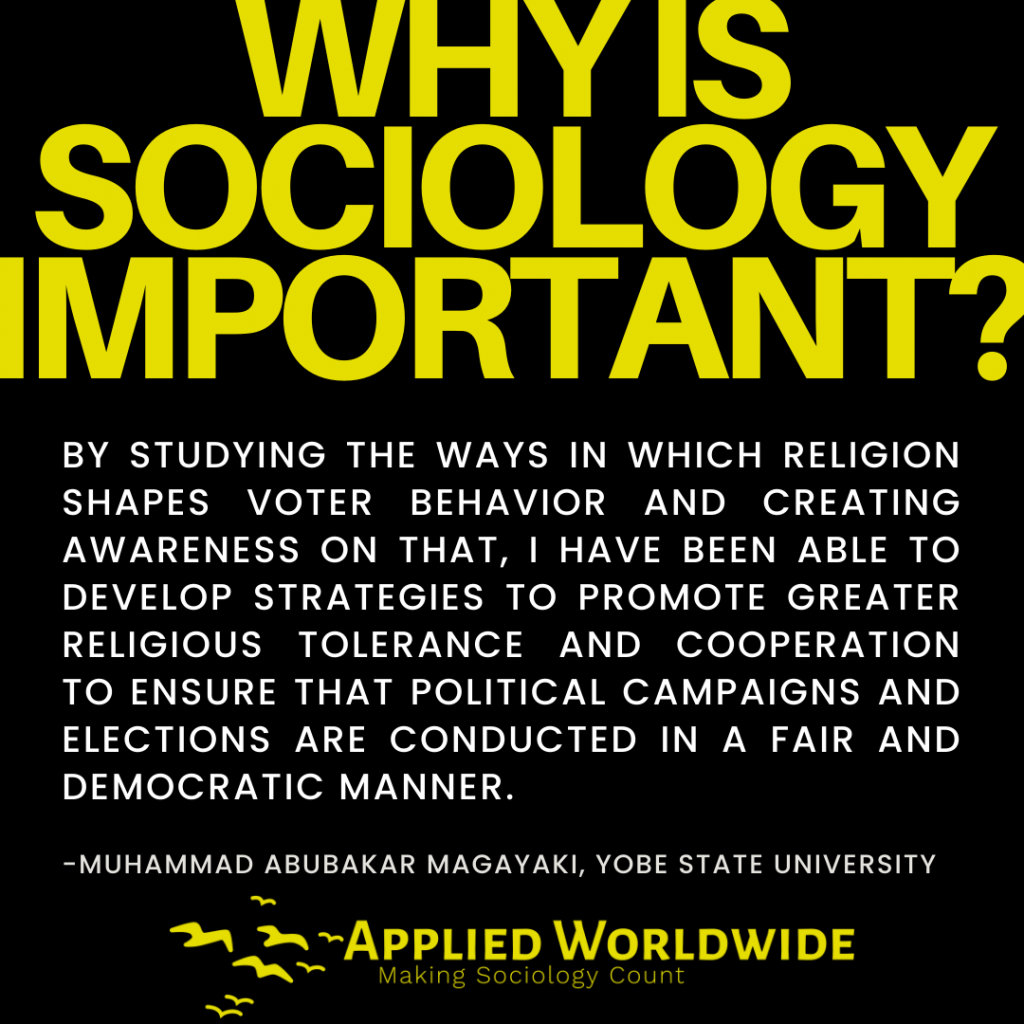 It was at this moment, that the calls of revered sociologists and political analysts in the country began to ring in my head. I listened to the speeches of Reno Omokri, a Nigerian author, lawyer, and former presidential spokesperson. He has been an outspoken critic of the use of religion in politics, arguing that it is often used to manipulate and deceive the public. I followed the advocacies of Professor Abubakar Suleiman of the Department of Sociology, Ahmadu Bello University, Zaria, on Facebook. He has written extensively on the negative impact of religion on politics in Nigeria, arguing that it undermines democracy and leads to sectarian violence. And after critically synthesizing the teachings of these scholars and their likes such as Dr. Bala Muhammad, a sociologist at Bayero University in Kano and Dr. Ibraheem Sulaiman, a sociology lecturer at the University of Abuja, who have been vocal about the dangers of mixing religion and politics in Nigeria and warned against politicians whom they described as only interested in power than in serving the people and that they use religious rhetoric just to gain support for their political bid. 
Overall, these sociologists believe that religion should be kept separate from politics, and that politicians should focus on policies that benefit all Nigerians, regardless of their religious beliefs. 
With these sociological experiences garnered from these scholars, I was able to realize that regardless of my religious affiliation, voting should always be based on competence and performance and not religion, because after all, the president is not voted into office to use religious doctrines to lead, they use a constitution and must work for all people. And I believe that, when a country messes with its leadership based on religion, people will suffer the severe consequences even in their sacred nests. I then decided to take action, and launched an awareness campaign using social media and printable such as stickers, flyers etc., to enlighten my fellow young people about the dangers of premising selection of who to vote as a presidential candidate to lead our nation for the next four years, based on religion as against competence and performance. 
The active response and acceptance I received helped my social media handles grow, I got more recognition during campaigns and elections as an advocate and that attracted me volunteer opportunities with several organizations. By studying the ways in which religion shapes voter behavior and creating awareness on that, I have been able to develop strategies to promote greater religious tolerance and cooperation to ensure that political campaigns and elections are conducted in a fair and democratic manner. 
I could not have done any of these without the contributions of those sociology scholars and the realization of the importance of the knowledge, understanding and application of sociology into my life and interactions. 
To me, no instance depicts the importance of sociology more than that experience! 
References
Giddens, A. (2013). Sociology. Cambridge: Polity Press, p.2. 
Berger, Peter L. The Social Reality of Religion. Anchor Books, 1973 
Meet our 2023 Global Student Essay Competition Sponsors!