Editorial Note
Thank you to our generous sponsors, Sociologists for Women in Society, Center for Equity Education, Azama Development Foundation, and Sociological Practice & Public Sociology (SPPS) – American Sociological Association (ASA) for helping us make Applied Worldwide's 2023 "Why is Sociology Important?" student essay competition a success!
This essay on the importance of sociology was published on behalf of Applied Worldwide's 2023 Global Student Essay Competition. For the 2023 competition, we awarded 16 student essayists across eight countries and one US territory and will be sharing each winning essay in our "Why is Sociology Important?" essay collection.
This sociology essay was written by Karthika B Surendran, a first year student at National University of Advanced Legal Studies, Kochi, Kerala in India and earned a 3rd place prize in the competition.
My Tryst with Sociology as a Student in India, Karthika B Surendran
Richard Russo said "Even at its most perceptive, sociology deals in abstractions." Sociology, rendered to be the Queen of the sciences according to Auguste Comte, is a discipline that observes social relationships and their aspects in their complex entirety and in relation to one another. While the subject matter sounds colossal, it is not some new phenomenon as society has been a part of civilisation since the dawn of time when tribes and teams were a trademark for survival even to the primitive hunter-gatherers with simian tendencies. 
India's Affair with Sociology
India, the land of diversity in aspects more than you and I, both, can name in a minute, is but a treasure chest of phenomena for sociology to dissect. From its growing population, surpassing China recently, to its glorious demographic dividend that it will bask in the nexttwoo2 decades if its potential is healthily advanced. Given its history of colonization and consecutive policies adopted to industrialise and eventually liberalise, privatise and globalise—the only constant we can observe often is, change. 
Coming to the population growth and demographic dividend that's observed in India, how can we explain whether it's a boon or a curse? What are the trends that have led us here? What are the indicators that population is growing? Is the notion that it's beneficial purely from an intelligent guess or does it come from an already established theory in history? I don't fancy this becoming an interrogation so I'll let you in on the answer that finds its base entirely in, you guessed it, sociology. 
Social Profile
Apart from these demographic aspects, we come to the social arena which is a rather charged area given our country's secularist orientation. There are caste discourses, religious conflicts, and regionalist urges at play, to highlight a selected few. Reservations are instituted, Minority Status is given, and State formation on basis of linguistic and tribals' demands are some of the safeguards that give us a view into their purview. History has preceded us in this case also, with social movements against sati and child marriage, and for widow remarriage and education of girls originating before Independence. 
In countless contexts concerning our country, we see dissent, movements, and activists at the forefront. Be it evils persisting over generations or recent threats to humanity, it has always been "by the people, of the people, for the people". Going through our history and even contemporary news, we're often at crossroads in our reactions to them. 
Land – Through the Ages 
Taking land, for example, with time we see differing policies that impact differently, both the agrarian face of the territory and its citizens. During the Delhi Sultanate period, there was the Iqta system—even land given to the nobles, officers, and soldiers. The Mughal period divided the territory further, making units under each other. Then the British imposed their monopoly on land and economy, etc. We have heard of their imposing on the peasants, the compulsion to grow a singular cash crop – indigo. Then there was the sensational disaster that is the Permanent Settlement. Gandhiji's first confrontation with the British was on behalf of Champaran's Indigo sharecroppers.
Even in recent times i.e. post-independence, we see discourses of such hue, with the abolition of the zamindari system, emergence of the dominant caste, and land reforms being a part of Mandal commission's report for the upliftment of OBCs. Land ownership has been a subject of power and prosperity since time immemorial and how it can come to persist with changing times is what Sociology offers. for various other phenomena.
Significance of Sociology 
If we delve into the importance of sociology, it's natural that lists will be drawn and in this case, such lists will be massive. Society was not built in a day, it's still growing and it's but a fact that there will always be room for improvement when it comes to the habitat you are living in. 
To begin, we use sociology in matters about the understanding of society. Sounds repetitive? Well, what comes to our welfare comes down to what society wants in the first place. Will you give something to someone if you have little idea whether they would like it or not? Unless you're not a self-centered gift giver, your answer will be no.
Taking my gift-giving rhetoric a step further, would you give someone something if you thought they would need it only because your next-door acquaintance wanted it? Unless we're talking land (which no one can get enough of, I hear you Marx), not everyone needs the same set of things and even the 4 materials essential to survival – food, clothing, water, and shelter are distributed in such a variety that getting them from someone sparks a different reaction whether a need is felt or not. I know we love to indulge in the occasional treats but haven't we all fought for the check in an attempt to not look like freeloaders?
Further, we should recognise and acknowledge the chemistry between sociology and other contemporary disciplines, not particularly but especially the other social sciences. Political Science, History, Law, you name it (literally). Each has some societal aspect to it and hence with it comes the grand entrance of Sociology. 
And even further, as contemporary discipline morphs their base into contemporary sectors, we see the contribution of sociology persisting. We consider societal influences when we present an idea to a room full of people, mostly clients. We consider their reactions to our pitch, of how it would pique their interest, and modify our presentation that way. In advertising, which is an integral part of every business, we reason out a "target demographic" for the brand. Sociology has been an undeniable part of our lives, leaving its indelible mark in sections of it we can't imagine. 
Sociology as an Eye-opener 
I remember the first time I studied it, how easy and bare bones I found it. I recall finding it awkward as to why it was being taught at the near end of my schooling, given my being accustomed to long questions with even more mind-numbingly frustrating answers. 
Already have a basic idea of society, having persevered in it my entire life, I was let into this new mature and theoretical understanding of it that gave me a depth and perspective for which I couldn't be less grateful. It made me unlearn and also enriched me at the same time. 
I was aware of my history. From kings and queens to the first war of Independence, nationalist movements, and Gandhiji. Concepts that were once unconsciously sidelined by me came to my attention in full force in my study. Getting reintroduced to concepts as close to me as family, I found words to what I didn't know I wanted to theorise. I was now aware of what was once beyond me and that knowledge only fed for more. 
I believe when you study something you're aware of, of what you're in touch with, you open gates to an understanding that not only brings you benefit but also maturity. As learning comes with challenges, of choices of whether you are ready to learn it in its complex background and how much that enlivens it.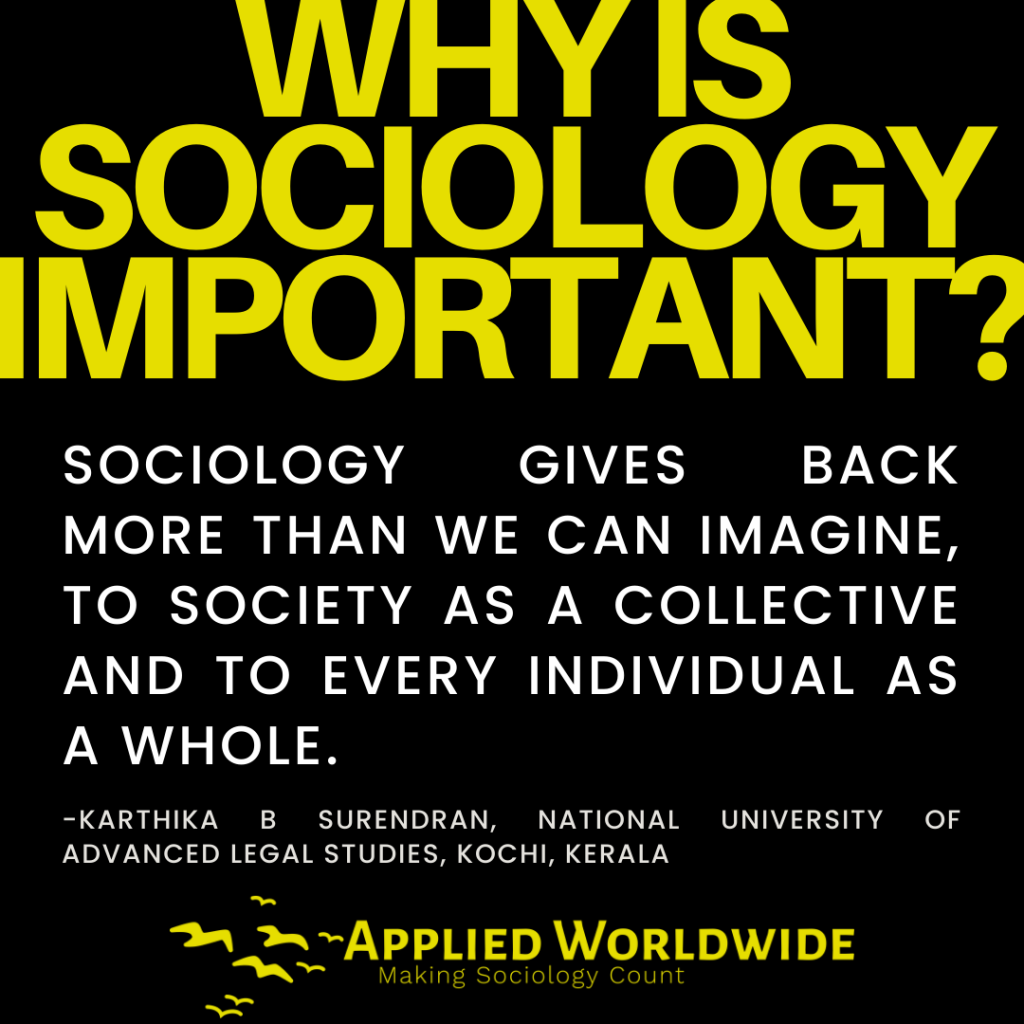 Way Forward
As students and future policymakers, Sociology has shown to present far-reaching gains and consequences that can't be gainsaid in the light of the data and its understanding of their trends. And while a utopia looks far from reach, this lucrative discipline can help us reach a tolerable version of a paradise sooner than we can surmise.
As we have seen with the definition of poverty which was earlier held to be a handicap specific to a person's shortcomings soon found its roots in the oppressive social system that entitled a few to a life of luxury (the bourgeoisie) and others to one of pure labour (the proletariat). We've seen works of Marx and Communist and Socialist ideas arising out of such discourses from the dark of their understanding of society. And contemporary versions of it are likely to arise further, given the stark inequalities. 
These developments will go on as time precedes us. But these learnings and observations are not to be forgotten. Such experiences are but bequests to our posterity in their pursuit of the world. Sociology gives back more than we can imagine, to society as a collective and to every individual as a whole.
Meet our 2023 Global Student Essay Competition Sponsors!