Editorial Note
Thank you to our generous sponsors, Sociologists for Women in Society, Center for Equity Education, Azama Development Foundation, and Sociological Practice & Public Sociology (SPPS) – American Sociological Association (ASA) for helping us make Applied Worldwide's 2023 "Why is Sociology Important?" student essay competition a success!
This essay on the importance of sociology was published on behalf of Applied Worldwide's 2023 Global Student Essay Competition. For the 2023 competition, we awarded 16 student essayists across eight countries and one US territory and will be sharing each winning essay in our "Why is Sociology Important?" essay collection.
This sociology essay was written by Isvi Sarabia Pacheco, a fourth year urban sociology student at Universidad Autónoma Metropolitana, México and earned a 3rd place prize in the competition.
Why is Sociology Important?, Isvi Sarabia Pacheco
Human societies have gone through different transformation processes over time, such as cultural, social, economic or political. This has had an impact on the environment in which people's daily lives are developed. The social changes that occur at a given time in societies affect the structures and institutions that enable their functionality. Functionalist thinkers such as Parsons and Merton, to mention a few, see society as a system that maintains an order and a function that preserves social equilibrium. In past decades, nuclear families were united by marriage, blood ties and heterosexuality predominated, today there are different types of families that are composed of various forms, for example, in free union, single parent, adoption of children, among others. 
In Mexico, family relationships have undergone significant changes due to the high increase in divorce, extramarital relationships, reconstructed families[1] as well as high academic preparation in couples, among others (Reyna et al., 2013) that have affected the traditional Mexican family structure. As we have seen, changes in social structures—such as the family—that guide our way of acting and interacting in society are undergoing modifications. In this regard, through socialization with our peers, we learn to internalize the norms, cultural and moral values, etc., that prevail in our society, and we also build our social identity. If a person is born and grows up in a certain country with its own characteristics, he/she adopts behaviors, attitudes and ways of thinking of that place that are shared collectively.
Sociology allows us to understand and comprehend the world around us and at the same time confronts us with reality. Most people—from their own contexts—believe that the world and their countries work in a certain way because it has always worked that way; poverty, inequality, economic crisis, among others. Without asking themselves and reflecting on why these social problems continue to exist and how they affect our daily lives. Facing these persistent realities in our days allows us to question, make reflections and approach what other people have researched and contributed to explain social phenomena. So sociological research and theories are not only to generate knowledge and accumulate it without praxis, but also to generate solutions to address the problems.
So far, sociology brings a lot to our daily lives, putting into practice the knowledge learned in the degree can contribute and benefit the community where we grew up or help those vulnerable social groups that need our knowledge and discipline to address their problems and seek a solution to them. Studying sociology opens your mind and changes the way you look at and understand your environment and the world because you do not look at it like everyone else, it is like putting on a pair of glasses and see everything from another perspective.
It also provides insight into people's social experiences and understanding of their situations. If a person has grown up in conditions of poverty, his or her way of understanding and perceiving his or her environment will be influenced by those conditions. I remember in an undergraduate course called Poverty Analysis, the professor commented that in a research she conducted on urban poverty in an area of Mexico City. In an interview, the woman told her that if it was God's will to live in that situation she had to accept it. Listening to people's narratives through interviews, life stories, among others, allows us to understand and give an interpretation to the thoughts, beliefs and symbolic values that people give to them. At the same time, it makes us sociologists more sensitive and can be a reason to try to help people, if we know their contexts and get closer to those people, perhaps we can bring significant value to their lives.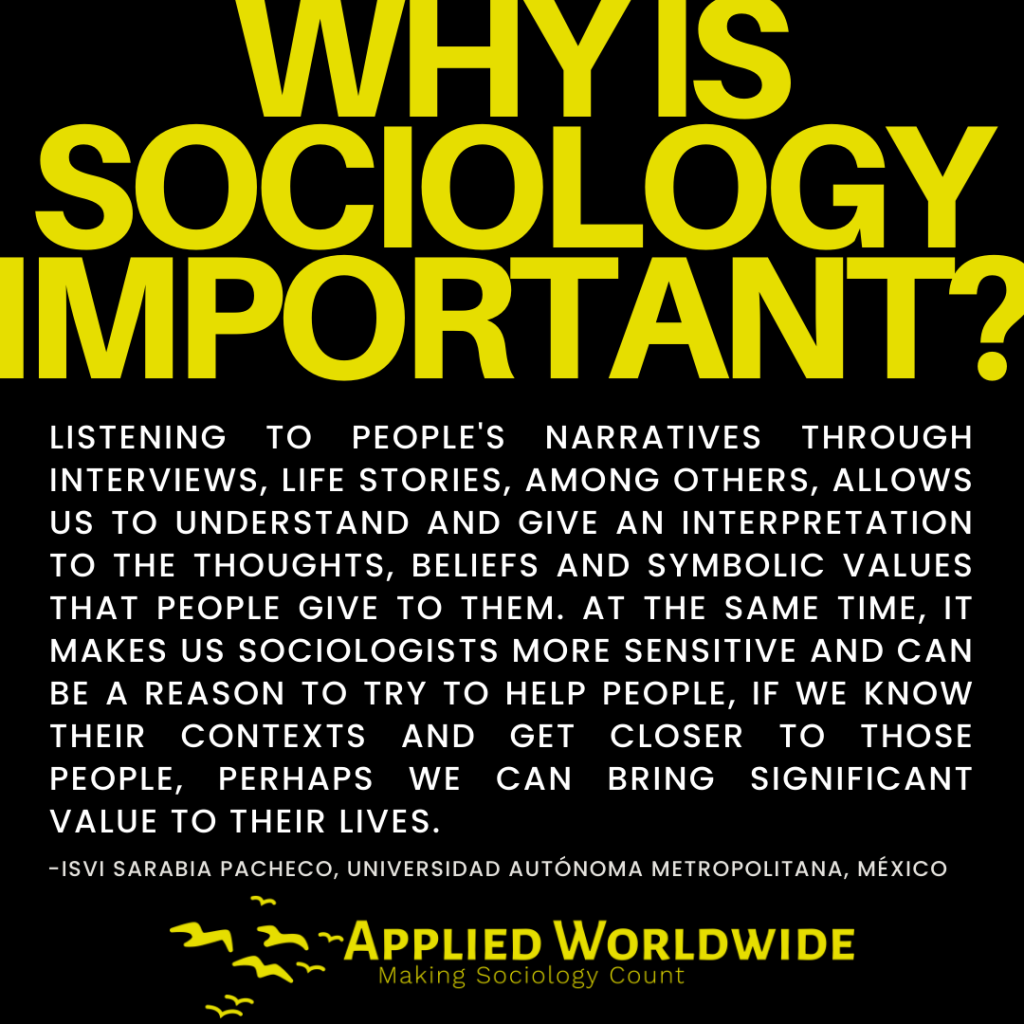 On the other hand, applying the knowledge and tools that this discipline teaches us at university to our lives is also a way of understanding our place in the world because we also belong to a society in a socio-historical and cultural context. The scope of sociology is very broad, it can be said to encompass all aspects of human social life, from studying structural processes to the more causal relationships that can be found in the street. To study society in relation to its art, language, culture, etc., which constructs and at the same time manifests humanity as social beings.
Sociology dialogues with other disciplines, it complements what they say about humans such as anthropology, philosophy, psychology or history. Humans are very changeable, so we need to understand human behavior and the different ways in which they relate and build their societies and interpret the world, not all people interpret it in the same way. Being born in the United States is not the same as being born in South Korea or Egypt. We humans are the only living beings capable of giving meaning and significance to the world to which we belong, and we take those meanings for granted without questioning them.  
Today contemporary societies face great challenges both at the macro-structural level such as economic, political, inequality issues and a profound proliferation of poverty, as well as at the community level, for example, addressing the social problems that occur in large cities: conflicts over public space, increasing socio-spatial segregation in urban areas, gentrification, among others. Using sociology we can understand, explain and diagnose the social environment of a community or territory, as has been pointed out. 
The Case of Mexico City
As there are a variety of sociology specialties to study society and its different manifestations, several fields of study have expanded—and will continue to be created. We have the sociology of education, sociology of work, political sociology, sociology of the arts and sciences to name but a few. I can talk about urban sociology and how it can help to understand and comprehend the social problems that arise in cities, and I will take Mexico City as an example. 
This city faces great complexities in terms of urban land management. For example, the unequal distribution of water for all inhabitants. Some areas of the city do not get water and its scarcity leads to conflict to obtain it, generating violence and corruption in the water supply.  Another case is the mobility of people, we are talking about the displacements of people who move from one place to another to carry out their daily activities (Gutiérrez, 2012). For people of a low socioeconomic stratum access to transport systems is difficult because the supply of transport is far away and concentrated in areas with better equipment and urban infrastructure, which involves long walks (Álvarez, 2019). In addition, it is common to find sidewalks and avenues in poor condition, which makes it difficult to walk on them. Road congestion also produces long times to get to a place. 
With the above, applying sociology to understand and explain the social problems that arise in urban life shows the usefulness of the discipline that allows us to make diagnoses for intervention and make decisions that help to solve these problems. With these examples I hope they have been helpful to see how important sociology is in our lives.
---
[1] In Mexico, reconstructed families are formed "after a divorce of one or both partners: frequently one or both partners have children from their previous family, and they are added to the children" (Covarrubias Terán and Gómez Herrera, 2014: 247).
References
Meet our 2023 Global Student Essay Competition Sponsors!