Editorial Note
Thank you to our generous sponsors, Sociologists for Women in Society, Center for Equity Education, Azama Development Foundation, and Sociological Practice & Public Sociology (SPPS) – American Sociological Association (ASA) for helping us make Applied Worldwide's 2023 "Why is Sociology Important?" student essay competition a success!
This essay on the importance of sociology was published on behalf of Applied Worldwide's 2023 Global Student Essay Competition. For the 2023 competition, we awarded 16 student essayists across eight countries and one US territory and will be sharing each winning essay in our "Why is Sociology Important?" essay collection.
This sociology essay was written by Ella Sanders, a first year sociology student at Baylor University in the United States and earned a 3rd place prize in the competition.
The Importance of Sociology and its Intersection with History, Ella Sanders
Sociology is, in my opinion, one of the most overlooked subjects. A fascinating subject, sociology is the study of society and human behavior. We live in a free society that makes the study of sociology necessary. I believe that the moral foundations of a free society such as ours includes the personal initiative to look out for others. The first step to looking out for others is to understand them. Sociology is a window into the human soul that equips people to understand those around them and inspires people to initiate action.
I find sociology to be a fascinating topic that bridges verified science with the human behavior that can be observed on a day-to-day basis. I firmly believe that everyone can benefit from gaining insight into society and understanding the decision-making and power relations that actively occur every day. Especially with the current, shifting political and social landscapes in the US, this topic is more relevant and eventful than ever. I have always been exposed to and fascinated by the study of society in general. I enjoy reflecting critically about human nature and dissecting what motivates people. As an introvert, I also spend a lot of time in thoughtful reflection. I find it thought-provoking to analyze introverted political figures like Rosa Parks and Martin Luther King Jr. and how they utilized their natural, observant dispositions to critically impact political thought and behavior in wider society.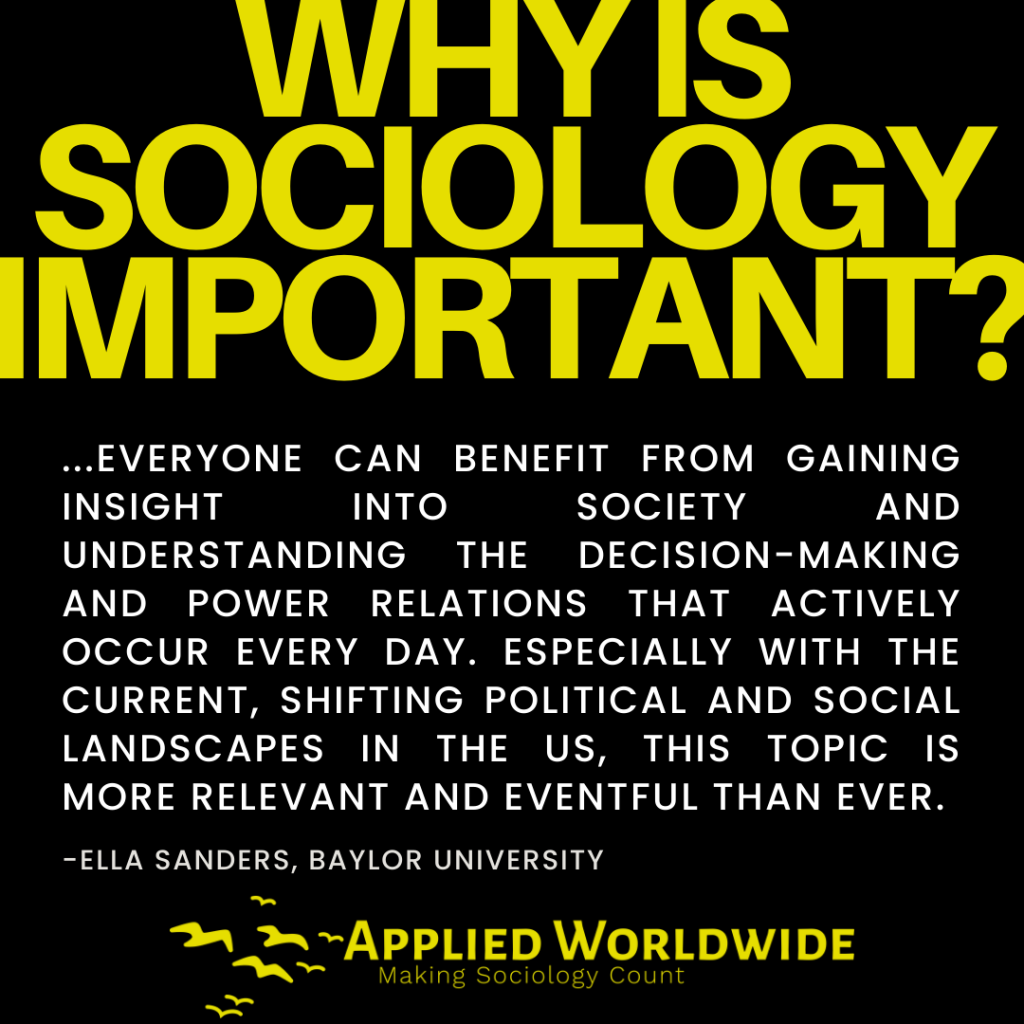 One book that has contributed to my understanding of the sociology discipline is Quiet by Susan Cain. Quiet has given me more insight to the people around me. Roughly half of the human population is introverted and the other half is extroverted. After reading this book, I am now able to reflect more critically about human nature and understand the subtleties of introverts. It was fascinating to dissect what motivates people who are more introspective and less likely to immediately insert themselves into rowdy situations than extroverts. It was also interesting to see how different dispositions influence how individuals handle power. Concerning its impacts on my personal life, I am now more self-aware of my own status as an introvert and able to more carefully dissect the actions of powerful figures who are introverts.
Sociology is a tool to understand the society we live in. Especially during a time where blind recitation of other's modish ideas is popular, I believe there is value in discussing and understanding social thought across time and several disciplines. It is astounding that certain human tendencies have been observed and preserved in literature and weathered centuries of time and generations of people. It is fascinating that sociologists are able to record and communicate timeless ideas of human nature that will be relevant as long as humans exist. I appropriately appreciate the contributions individuals have made to society's general understanding of various disciplines. Through sociology, people are able to study and to understand universal truths that apply to everybody. I believe the serious study of sociology gives people not only more insight into society, but also leaves them better equipped to navigate life.
Sociology has already benefited me in my personal life, especially with its intersection with history. Like with sociology, I have always been fascinated by history and by the general study of the past. Last summer, when given the opportunity to participate in a 12-day study abroad program in England and France based on Winston Churchill and World War II, I leapt at the chance. Preparing for the trip, I read through Churchill's speeches and biographies, gaining insight into a man who was incredibly influential during World War II. Thanks to my additional insight from a sociological perspective, I was able to analyze the behavior of English society at this time and how general society interacted with Churchill. After exploring the traits that made Winston Churchill a successful leader and statesman in the form of an essay, it was surreal to travel to England and to see where this man lived and led. I visited Chartwell and saw where this influential man took refuge from his responsibilities. I visited both the War Rooms where Churchill oversaw the war and the Imperial War Museum. Traveling around England and France and being immersed in history and sociological thought was pure bliss. I never once tired of studying history and sociology that seemed so distant, but was actually incredibly relevant.
Furthermore, I am inspired by figures in sociology like Zora Neale Hurston. Zora Neale Hurston was a Harlem Renaisance thought leader. She was first introduced to the Harlem Renaissance scene by professor Dr. Charles S. Johnson. Impressed by the material she wrote for Howard College's literary society, he suggested that she move to New York to take advantage of the higher visibility available to writers (Hurston). Once in Harlem, she launched and published material in the groundbreaking magazine Fire!!. From this outlet, Hurston was able to work alongside other writers to challenge traditional ideas of race and religion. Additionally, Hurston published short stories "in which she represented New York and attempted to capture, with her unmistakable sense of humor, the new urban sensibility and language of migrants to the city" (Carpio and Sollors). Hurston not only challenged racism and the traditional racial structure of society, but also revealed the vibrant lives of African Americans in Harlem.
Throughout the 1920s, Hurston spent time in the South collecting folk tales and interviewing individuals who had previously been enslaved in America. The vast knowledge she gained during these years completed her observations of African American life on the East coast, making a complete span from Harlem, New York to her hometown of Eatonville in Florida. These observations would turn out to be essential to her writing career and success as a Harlem Renaissance leader. Having established a passion for writing, Hurston went on to write and publish her most well-known novel, Their Eyes Were Watching God. In this novel, Hurston captured the experience of being a Black woman in the South. Her work was groundbreaking, and revealed "the vivid experiences of Black women in the 20th century, experiences that were taboo and unspoken in the Black community" (Kerr). Using the knowledge she gleaned from investigating in the South, Hurston shed light on an overlooked sector of American society, Black women. While the actual characters were fictional, Hurston accurately captured and conveyed the spirit of Black women. Hurston effectively created a "controversial manifesto of a woman liberated from her racial history and from brutal domestic violence" (Gueorguiev). Her cutting-edge work not only represented Black life in America, but also gave a voice to Black women. Thanks to figures like Hurston who have made vast contributions to sociology, overlooked groups are given the attention they deserve. However, it is necessary to continue studying and uplifting marginalized groups within the sociology discipline.
I enjoy being able to study sociology and effectively sharpen my intellect. I am motivated by interpersonal relationships, inspired by influential figures who have walked this earth before me, and strive to work with the tools sociology has given me to make the state of the world a little bit better. As of right now, I am not sure what my professional goals are, but I look forward to my academic pursuits and the sociology experiences that will surely help shape my path.
References
Carpio, Glenda R., and Werner Sollors. "Five Harlem Short Stories by Zora Neale Hurston." Amerikastudien / American Studies, vol. 55, no. 4, 2010, pp. 557–60, http://www.jstor.org/stable/41158707.
Gueorguiev, Daniel. "Hurston & Hughes: Two Major Figures of the Harlem Renaissance." The New York Public Library, www.nypl.org/blog/2021/02/23/hurston-hughes-harlem-renaissance.
Hurston, Zora Neale. Dust Tracks on a Road. Harper Collins, 1996.
Kerr, Chloe. "Black History Month: Zora Neale Hurston & the Harlem Renaissance." Ketchum, 2 May 2018, www.ketchum.com/black-history-month-zora-neale-hurston-the-harlem-renaissance/.
Meet our 2023 Global Student Essay Competition Sponsors!