We are not currently accepting guest submissions. Please check this page for any future updates.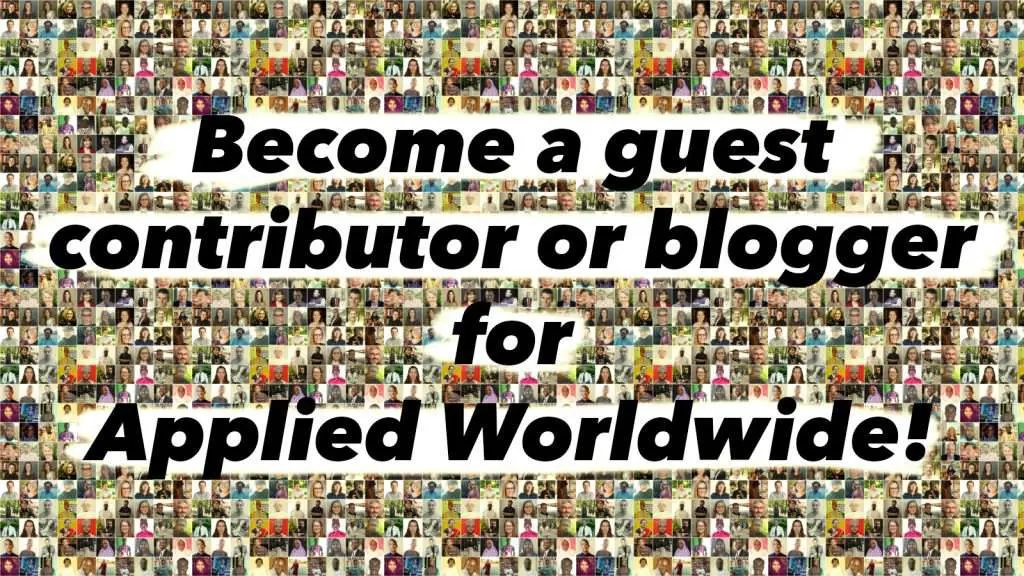 ***All submissions must be original—meaning they are not published elsewhere in any other form—and are reviewed based on openings in our publication schedule.***
At Applied Worldwide, we specialize in internet writing, also called SEO writing. Before making a submission, we suggest reading our latest Writer's Update blog for ideas of topics on which we are currently aiming to publish as well as tips for internet writing.
Author Guidelines
SEO Writing
SEO stands for search engine optimization, and SEO writing is about writing in a way that is optimized for search engines. When you search something online, the top results you receive have a high search engine ranking, meaning the articles, images, or videos have been optimized for search engines. That ranking depends on different factors ranging from web design to keyword competition. Fortunately for our writers, we handle the behind-the-scenes of SEO, but here are a couple of tips!  
Good SEO writing has a similar process to a literature review. It should include some background research to find what internet content is missing or inadequate, and strategize a way to fill the void.
Good SEO writing also ages well. It takes time for articles to gain in search rankings and once they receive a high ranking, they tend to remain highly visible for a long period of time.
Lastly, a strong SEO article submission will be easily searchable online through keywords associated with the topic, title, and content of the article. 
We ask that all SEO article submissions be 800-1200 words in length with a clear and searchable topic of interest that fits into one of our subpage categories listed below (you will be asked to identify up to three potential categories for your SEO article before submitting it for consideration):
LEARN SUBPAGES:

Subfields in Sociology – articles outlining the various subfields within sociology and how they may be applied
Topical Analyses in Sociology – articles using sociology to unpack and analyze topics of interest in society 
Applying Sociology to Holidays – articles applying sociology to holidays celebrated around the globe
Sociology in Industry – articles applying sociology to various industries (e.g., tech, education, health, etc.)
Graduate School – articles exploring and highlighting graduate school experiences in sociology

EXPLORE SUBPAGES:

Occupational Experiences – experiential articles exploring various occupations through a sociological lens
Cultural Experiences – experiential articles exploring various cultures through a sociological lens
Hobby Experiences – experiential articles exploring various hobbies (e.g., art, travel, sports, cooking, hiking, etc.) through a sociological lens
National Parks and Forests – experiential articles related to exploring the natural world through a sociological lens

TEACH SUBPAGES:

Using Social Media – articles outlining the use of social media in the sociology classroom
Sociology Pedagogy – articles discussing teaching philosophies for the sociology classroom
Professional Development – articles related to various professional development opportunities for sociologists and students
Sociology Assignments – articles outlining creative assignments for the sociology classroom
Classroom Experiences – articles detailing teaching experiences from the sociology classroom
References and Citations
Citing ideas we borrow from published works is not only important for avoiding plagiarism, but also for transparency between authors and our readers. Therefore, we require proper referencing and citations in all submissions before they may be considered for publication on the website.
Referencing Guidelines:
Rather than requiring citations in an academic style format (e.g., ASA, APA, Chicago etc.), we ask that authors reference books, articles, research papers, movies, webpages, and other sources in the text itself. In doing so, authors can ensure they are properly crediting other authors and thinkers while maintaining the readability and flow of their writing. Below are specific requirements to help authors with proper referencing and citations in their submissions:
If a direct quote is used in an article or blog post, the quoted section must be enclosed in quotation marks.

E.g., French sociologists Pierre Bourdieu wrote "the function of sociology, as of every science, is to reveal that which is hidden."

If an author is referencing an online source, they are encouraged to hyperlink that source in the text or provide a URL to be used as a hyperlink during the copyediting process.

E.g., The Web Composer providers useful guidelines for citing sources in blog writing.

Rather than using an academic citation style in text, authors should imbed the reference into their writing.

E.g., Use "A study conducted by Stephanie Wilson in 2021…" rather than "A study conducted by Wilson (2021)…"
When citations are included within the text and based on requirements above, there is no need for a reference list at the end of articles and blogs. Please be sure all sources referenced are properly cited based on the guidelines above before submitting a blog post or SEO article.
Submit your Writing!
If you have questions regarding the author guidelines, please reach out to us at AppliedWorldwide@gmail.com. To submit your work for consideration, click the submission portal linked below.
---