Editorial Note:
This article on the history of sociology is being published on behalf of Applied Worldwide's 2021 student essay competition. Students were prompted to respond to the question, "Why is sociology important?" We have awarded 17 finalists from all over the world, and published those essays over the course of a few weeks.
This essay was written by Chris Gonoh, a student at Afokpella Secondary School in Nigeria. This essay received a third place award. We had a really great turnout and would like to thank everyone who submitted an essay. We received a wide variety of creative interpretations and responses, so browse our essay directory!
Chris Gonoh – History of Sociology and its Current Relevance
History of sociology was initially set by a French logician, Auguste Comte (1798-1857) in 1838 is an academic discipline which is proven to be more extensive than any social science field on the planet. Aside from the originator, there have been other traditional scholars of Sociology who have made the field to be more alluring and more extensive from the late nineteenth and mid twentieth centuries they are: Karl Marx, Max Weber, W.E.B Dubois, Emile Durkheim and Harriet Martineau among numerous others.
In any case, sociology even as an antiquated discipline is as yet muddled to numerous persons and clear to some number. Sam Richards probably experienced such when he said 'My students often ask me, what is sociology? And I tell them it's the study of the way in which human beings are shaped by the things they don't see." The importance of sociology is that it discusses our reality and how it functions.
My Experience and History of Sociology
As my minor course, it uncovers to me diverse methods of characterizing human conduct and the society. Obviously, the examination of human conduct centers around a 'wide' range factors outer to every human and they are socialization, experience, family background, ethnicity etc. As an economist, the commitment of sociology to my major career is the advancement of hypothesizing and investigating. A large number of person, organization or state would always seek and apply information acquired from research.
The thoughts in sociology and economics when joined, Undoubtedly, is a huge help to have a more extensive sense about 'human behavior' and the society. I used to accept that it is the society that changes but through sociological concepts, I currently realize that every Society is steady. It is as a result of the voracious need of an individual that causes powerful interest along these lines hauling the society to 'change' through shortage and downturn. Creating thoughts from the two fields most particularly Sociology – the minor however mighty will make me a superior individual and draw out my knowledge and minds in the work market.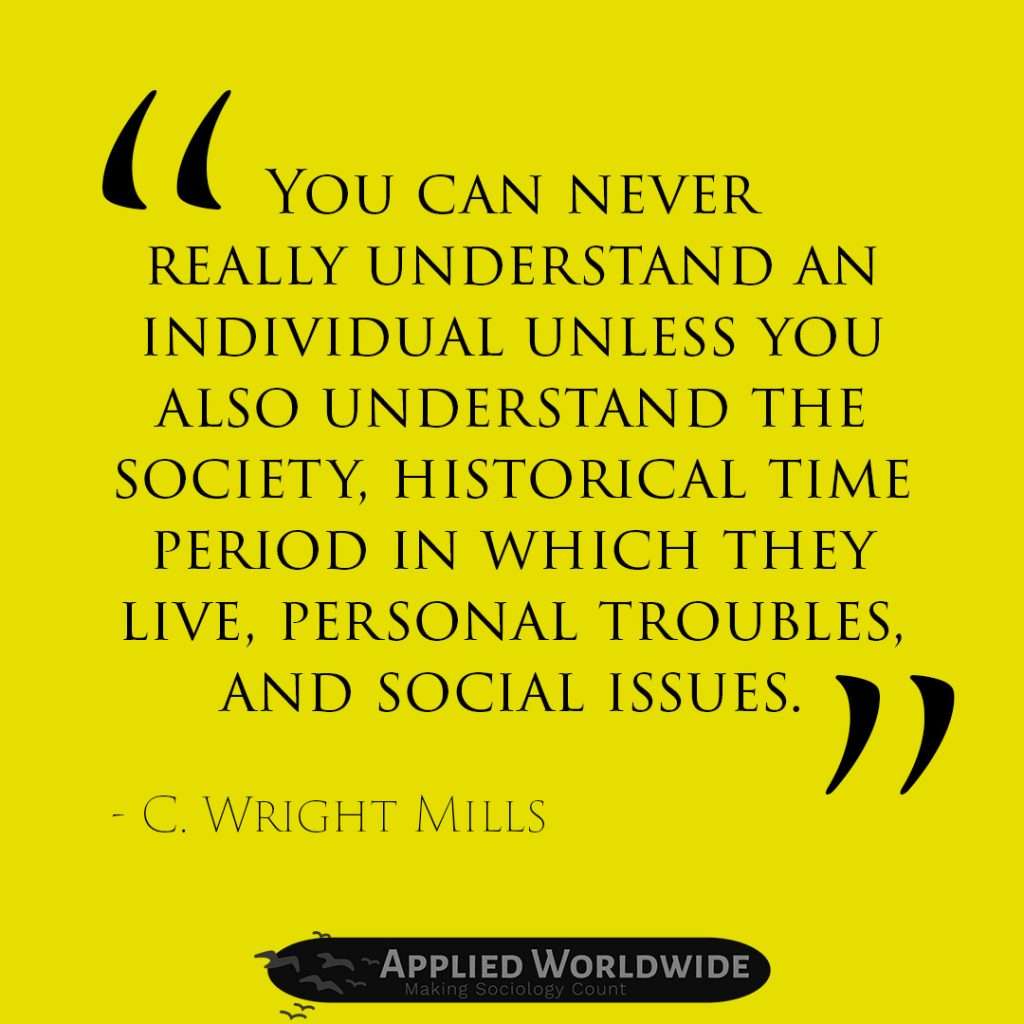 Continuously, C. Wright Mills in Sociological Imagination portrayed and examined the commitment sociology makes to human existence. Anybody that have flipped through pages should realize that one of the best advantages in learning sociology is to assist us with creating attention between cultural and individual experience.
Sociology of Nigeria
In Nigeria, the five fundamental Institutions which are the family, education, government, economy and religion have all been dirtied seriously with slant, lies, cheating etc. Trends in televisions, newspapers and internet are effective issues which are generally sociological. Such discussions are on quality education, corruption, politics, capital punishment, religion among others.
Hence, sociology can promise us a sound progress to amending the ills and to guarantee a culmination of current circumstances when these topics are continuously on the lips of the citizens, as headlines of the media and us writers making these issues as subject matters in our write-up.
It is a known fact that applied sociology looks for information in work for a particular reason. At the end of the day, its importance is that of proffering answers to world issues. An estimate published by the United Nation shows that the greater part of global population growth between now and 2050 is relied upon to happen in Africa wherein the youthful ones who will arrive at the adulthood in the coming years and bear their own posterity, will guarantee the region a focal part in molding the size and appropriation of the total world population over the coming decades.
Additional Sociological Considerations in Africa
Population growth is never a wrongdoing. However, any state that is going to encounter expanded population rate ought to be dually fortified ahead of time. Genuinely, it will be a wreck for an upsurge increment in Africa population. My region, Nigeria is the most populated nation in Africa having the greatest economy. In the long run, she will start to lead the pack in figures! It torments me that a lot of Nigerians right now are at the mercy of poverty, illiteracy, unemployment etc.
How do you create wealth and employment when the industries are short of breath? How would you control illegal intimidation when bandits are being paid as and when due? How would you promote creativity and Innovation when you support cerebrum channel? A lot of questions applied sociology can tackle through the utilization of the information on It sub-discipline like economic sociology, sociology of population, political sociology etc.
Furthermore, the importance of sociology is that it also hinges on various health care delivering system by the adoption of health-related courses like Mental Health or Community Health therefore promoting the philosophy that it is actually a wealth to be healthy as a human and community. At that point, its incentive in the health care system is the information on role of norms regulating among care providers and it approve polished methodology as a watchword in the framework while decreasing strain.
Concluding Thoughts on the History of Sociology and its Current Relevance
I would like to finalize by submitting to the expressions of an America Professor, Margaret Abraham that, "We need to reflect, react and perceive our obligation as sociologists to address what's going on, on the ground in these given occasions and endeavor to address treachery." It is my belief that sociology is for a restoration of hope since it conveys an opportunity of delivering freedom and creating a better and just world for us to live in.
The potential value of sociology as a discipline is an immense contribution to the information on human life, social process, health care system and to every economy.