Editorial Note
Thank you to our generous sponsors, Sociologists for Women in Society, Center for Equity Education, Azama Development Foundation, and Sociological Practice & Public Sociology (SPPS) – American Sociological Association (ASA) for helping us make Applied Worldwide's 2023 "Why is Sociology Important?" student essay competition a success!
This essay on the importance of sociology was published on behalf of Applied Worldwide's 2023 Global Student Essay Competition. For the 2023 competition, we awarded 16 student essayists across eight countries and one US territory and will be sharing each winning essay in our "Why is Sociology Important?" essay collection.
This sociology essay was written by Ajayi Ibukunoluwa, a fifth year student of Public and International law at Osun State University in Nigeria and earned a 2nd place prize in the competition.
Why is Sociology Important?, Ajayi Ibukunoluwa
What's Hecuba to him, or he to Hecuba, that he should weep for her? Asks Hamlet, in the famous Shakespearean work, Hamlet. The protagonist, questioning the significance of such emotion, wonders why the character weeps for someone who exists only in a play. Similarly, one may also wonder what importance sociology holds. It is an abject truth—one devoid of falsity— that holding something important transcends mere indulgence or caprice, for it carries an imperativeness, that cannot be ignored. It is akin to a precious diamond that sparkles with so much honesty that it cannot be dimmed by the slightest darkness. It is an undeniable fact that change has become an inevitable component that upholds our world, same with our social life which is never static but is clogged in the unending wheel of change. Before its preeminence, the study of society was explored in an unscientific manner, but through the study of sociology, a true scientific exploration of society was not only conceivable but also achievable. More significantly, over the last thirty years, interconnected processes of globalization, multiculturalism, technological advancements, financial crises, and political upheavals have greatly re-engineered societies, and the complex nature of human behavior has played a significant role in how we interact with each other. Sociology, because of its overarching influence, has inevitably necessitated great importance, which is considered the best approach to all contemporary issues confronting the world today. This importance cannot be overemphasized and will be examined in the ensuing discourse. 
Before we begin, it holds paramount importance to distill the concept of sociology. The word sociology is a combination of the Latin and Greek words, "socio" and "logy." Logy is the study of life and mind respectively while "socio" points to society, bringing these two parts together, sociology can be defined as the intellectual discipline concerned with developing systematic reliable knowledge about human social relations in general, and about the product of such relationships in society. This definition assumes detailed knowledge of the society and its behavior. A society can therefore be defined as human beings in interdependence. Having defined sociology, the question that begs for an answer is why is sociology important? 
First, sociology is important because it enables me to understand the intrinsic worth and dignity of people. With a seeming similitude one may also say, sociology draws my attention to a special value that is significantly tied to our humanity. It is significant to say that sociology has been instrumental in changing my attitudes and perceptions toward human beings. As a boy from a not-so-rich background in Nigeria, sociology demystified my approach to the world, especially regarding conflicting theories on class. Before my higher education, the prevailing social realities in Nigeria shaped my thinking that wealth, power, ethnicity, and gender were determinants of one's social ranking or position in the vertical social structure. This was so bad that I became introverted, not because I'm naturally so, but because my predisposition towards such behavior was influenced by this reality. But with sociology, I was able to understand that all human beings are born free and equal in dignity and rights. For example, my study of the healthcare and educational systems in Nigeria highlights the inequality inherent in those systems and undoubtedly underpins the increasing importance of providing equal access to quality healthcare and education for all Nigerians, regardless of their gender and socioeconomic status. This is enshrined in extant human rights laws and deeply rooted in many religious and philosophical traditions. Why is human dignity so important? It suffices to say that the dignity of human beings is paramount because it helps us to understand our lives. By appreciating the value of every person, including ourselves, we can make informed decisions that positively affect our physical, emotional, and spiritual needs. Human dignity is an ineffable concept that cannot be overlooked; therefore, it must be respected as such. 
Second, sociology is of great importance because it provides an insightful lens for individuals and policymakers to understand and plan for society. There is no gainsaying that the concept of society is as complex as the world itself. Due to the precarious nature of society, it is impossible to overstate the importance of sociology in understanding its intricacies and solving numerous problems. Sociology does this by equipping us with what sociologists call sociological imagination. Sociological imagination is a particular way of looking at the world around us, beyond individual psychology. It is a way of looking at our experiences in light of what is going on in the social world around us and relating it to the many and varied facets of sociocultural and biological forces. 
As Peter L. Berger noted in his classic book Invitation to sociology, "The first wisdom of sociology", sociology helps us to question conventional understandings of how society works. This is achieved by looking for alternative interpretations of social reality, beyond the interpretations provided by society. In this manner, sociology challenges the traditional understanding of social institutions and realities. 
For example, coming from a traditional family, I grew up with the strong mentality that my family is the only framework for societal success and lacked knowledge of the external world beyond it. Over time, I discovered that society transcends the family unit, and I needed comprehensive knowledge of other societal factors. This includes understanding the social structures, norms, values, and beliefs that influence our behavior, attitudes, and relationships. Through this lens, I developed an awareness of multifaceted issues pertaining to race, ethnicity, gender, sexuality, and class. Today, I not only consider myself a product of a good family background but also a product of many factors that interplay in the formation of our individual experiences and opportunities. 
Moving forward, sociology enables us to obtain a more complete understanding of society by illuminating the social forces affecting our behaviors, attitudes, and opportunities. This illumination emphasizes the prevailing social structure, which can be either horizontal or vertical. Horizontal social structure refers to the social relationships and communities of which an individual is a part. Some people belong to many networks of social relationships, such as dance clubs and environmental activism, whereas others do not. Some people grew up in ghettos, while others grew up in urban areas. These are illustrations of how factors constituting the horizontal social structure forms an important fabric of our social environment. The other aspect of social structure is the vertical social structure, which refers to ways in which society ranks people in a hierarchy system, with some more people possessing greater "equality" than others. For example, in Nigeria, wealth, power, race, ethnicity, and gender are determinants of social ranking/positioning in the vertical social structure. Some people view themselves as superior while others see themselves as inferior. This is reflected in Nigerian society, where women are expected to be docile and subsist on the earnings of their male caretakers (husband, father etc.). Such hierarchical positioning necessitates a profound effect on the attitudes, behaviors, and life opportunities of individuals, both for themselves and their offspring. By understanding this we are able to come to the conclusion that individuals' problems are often rooted in problems stemming from the horizontal and vertical social structures of society, and that there is an urgent need to nip these social pathogens in the bud. 
The above clearly shows that without a comprehensive knowledge of the society in question planning, society is akin to trying to navigate the city of Toronto without direction. In the absence of a proper investigation, no effective social planning would be possible. Through sociology, we can determine the most efficient means and devise the most efficient policies to address any conundrum. 
Third, Sociology is of great importance because it provides solutions to contemporary social problems that positively impact many professional sectors. In this present world, applied sociology is very relevant because it enables us to provide insightful solutions to a broad range of contemporary social problems by applying sociological knowledge, principles, and theories. As a result, various professional sectors are positively affected. For instance, in the social service sector, sociology provides insights to social workers on how socioeconomic factors affecting marginalized groups, such as poverty and food insecurity, can be addressed. Similarly, in the educational sector, sociology can help educators curate well-tailored solutions to the social factors that causes graduate unemployment. This includes factors such as ethnicity, gender, and the enormous disconnection between learning and education. For example, while I was conducting research on increasingly higher degrees without proportionate improvement in unemployment, I discovered that the growing unemployment rate in Nigeria exacerbated by protracted macroeconomic conditions was not in its entirety, a fault of the people. While some people are undoubtedly lazy or lack the requisite skills, a more logical explanation for this is that the very structure of opportunities has collapsed. Through empirical research, I got an understanding that sociology can help address unemployment by identifying effective policies that can enhance educational standards, and launch various entrepreneurship programs. Therefore, it is without a doubt that sociological knowledge stands to be of great importance in addressing contemporary pathologies and in advancing socio-economic developments across various socio-economic sectors. 
Finally, Sociology is of great importance because it helps to understand institutions and their role in contributing to the growth of not only individuals but also communities at large. It is through sociology that the scientific study of social institutions and the overall development of communities is obtained. What is an institution? An institution can be described as a large-scale social arrangement that is stable, predictable, created, and maintained to serve the needs of society. The state and government, schools and education, religious centers, the home, the community, and associations are all institutions through which society functions. Personally, sociology enabled me to understand the role of institutions in shaping our lives. For example, in the realm of government, examining the power structure in a state, we would probably consult a charter or constitution that spells out the powers of the branches of government. However, sociology shows that it is increasingly important to look beyond these written documents to understand power structures in government because while these documents provide information about decision-making power, they do not account for other factors that may influence decisions, such as labor unions, media, and pressure groups. Therefore, if we are to have a deeper understanding of these institutions, comprehensive knowledge of sociology is important.  
Furthermore, sociology helps us study how these institutions contribute to the growth of our immediate communities. The question that we may ask is how this plays out. Sociology enables us to understand how these institutions can help policymakers identify the threats and opportunities that can promote and hinder communal growth. Through sociology's insightful lens we can examine how protracted macroeconomic situations confronting various strata of government indirectly affect job opportunities, income, and overall development of communities. For example, we can understand how local governments can further eliminate barriers affecting rural growth by collaborating with community-based organizations across the nation. Thus, examining the interactions between these institutions and communities is an inescapable reality and sociology serves as an enablement.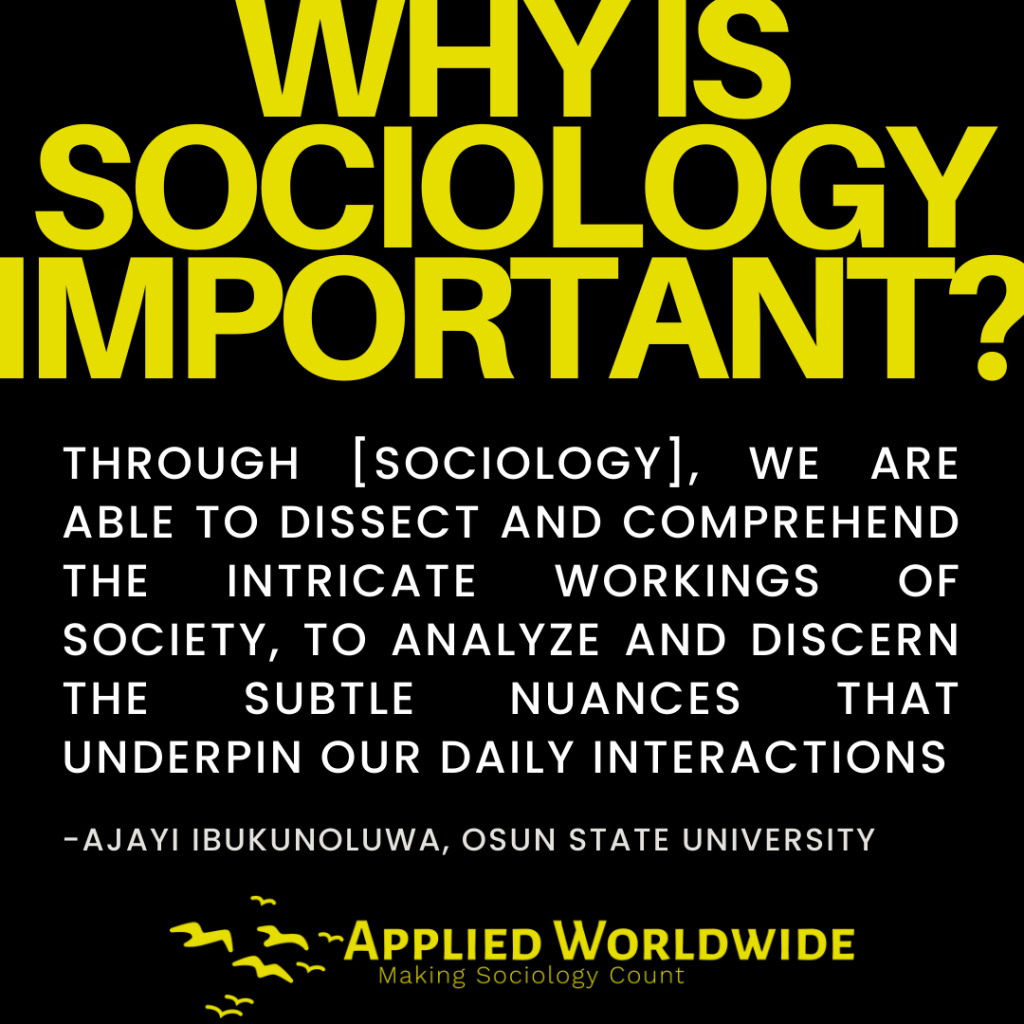 In conclusion, as Pierre Bourdieu noted, "The function of sociology, as of every science, is to reveal that which is hidden". This shows that sociology in ultimate conception is an indispensable tool, a beacon of enlightenment, and a guiding force that leads us to a better understanding of ourselves. Through it, we are able to dissect and comprehend the intricate workings of society, to analyze and discern the subtle nuances that underpin our daily interactions. We are able to ask, to know, and to perceive: that which binds us all together; the underlying factors that shape our collective behavior and dictate the course of our lives? we are also able to reach a conclusion that neglecting sociology is like subjecting ourselves to modern dystopian, where problems threaten to eclipse solutions. 
References
Meet our 2023 Global Student Essay Competition Sponsors!