What are the eight steps of a Yoruba wedding ceremony?
What are eight steps of a Yoruba wedding? The eight steps of a traditional Yoruba wedding include,
Welcome,
proposal and acceptance,
meet the groom,
meet the bride,
bling please,
bride price,
cutting the cake, and
party and merriment.
I was recently fortunate to experience the traditional Yoruba wedding of my close family friend. Below, I share my experiences of the eight steps during my "big sis'" wedding.
Preparation for Yoruba Wedding
In the morning, I woke up with severe body pains caused by the previous day's activities. I had completed my exams two days before traveling to Ogun state in Nigeria to attend my best friend's sister's traditional Yoruba wedding. As a friend of the family, my friend's mom had made it compulsory for me to arrive a day before the wedding to help with the preparation. So, I took off immediately after my last university assignment.
Wedding preparation was in top gear by the time I arrived. The house, reception hall, venue decorations, food and drinks, everything had been placed in order. And, the look on everybody's face was exceptional gaiety, especially the beautiful Yoruba bride whom I fondly call "big sis." So that night, that is, the eve of the wedding day also called spinster's night, the bride's sisters, friends and colleagues all gathered around her, singing, dancing and clapping, making the night a memorable experience for her, we were there till daybreak.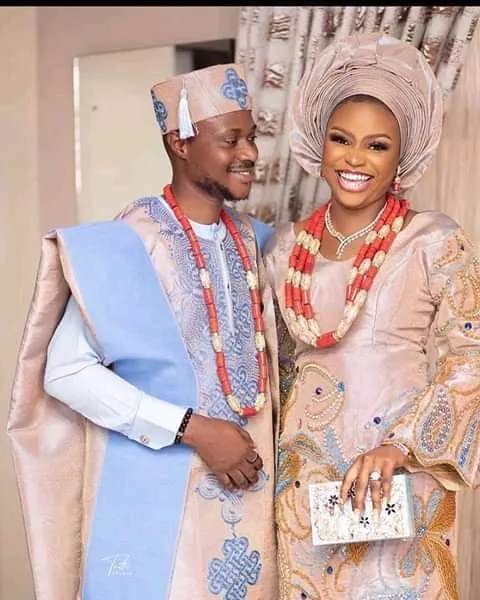 The Yoruba Wedding Day
The big day finally arrived and we were all dressed up for the venue. I did big sis' make up and her traditional attire was beautiful. She wore a sky blue with nude aso-oke design, nude gele (headgear), silver earrings and traditional bead necklace, silver wrist band. Big sis complemented it with a pink bag and shoes.
Aso-oke is a Yoruba traditional wedding attire and is held with high esteem because it symbolises and represents Yoruba culture. So, bride and groom are to wear the same aso-oke attire. The bride's style will be iro and buba (a top and wrapper), while the groom's will be trouser and a top complemented with agbada and made complete with a hat (fila), all with one beautiful design.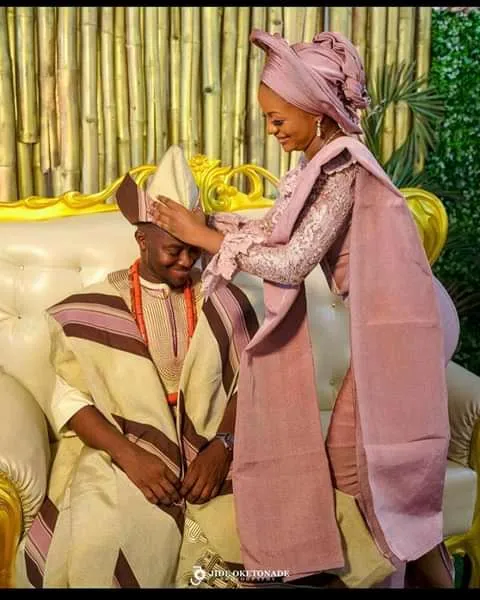 Everything got set so we headed for the venue where the groom and his family have been awaiting our arrival. They can be fined for lateness if the bride's family arrives first. Normally, the traditional wedding is supposed to take place in the bride's family house. Also. they can choose a venue for it if they don't want it done at their residence, maybe because of large space.
Eight Steps of the Traditional Yoruba Wedding
The Yoruba traditional wedding has eight steps which makes it unique and special from other tribes.
Step 1:  WELCOME
We got there and the wedding procession began formally with a welcome address by the two narrators representing both families. The Alaga Ijoko (sitting MC) for bride's family and Alaga Iduro (standing MC) for groom's family. Prior to the engagement, both families had met for the 'introduction' where amongst other things, engagement that is, traditional wedding date was made and both families got to know each other.
The arrival of the groom's family to the stage signaled the start of the ceremony. Here, they were introduced by their Alaga and proceeded to kneeling and greeting the bride's family.
Step 2: THE PROPOSAL AND ACCEPTANCE
An elaborate proposal 'letter' was presented by the groom's family and read out loud by the youngest member of the bride's family. That happens to be my friend's younger sister, after which an acceptance letter was giving by the bride's family. This symbolises a mutual agreement between both families that they gladly accepted the union of their children.
Step 3: MEET THE GROOM
The group was escorted by his friends with dancing steps straight to his in-law's place where they prostrated two times and he prostrated once alone to his new in-laws. During the third prostration, both families stretched out their arms and prayed for him. He then prostrated once to his family before heading to his seat. This act demonstrated the kind of respect the groom has for his in-laws.
Step 4: MEET THE BRIDE
The veiled bride made her appearance escorted by her friends and younger ones of which I was one of them with beautiful dancing steps. After, she knelt before her parents for prayers and blessings then did the same thing with her husband's parents. Then, she was unveiled and joined her husband where he was seated.
She was asked to remove her husband's hat (fila) and rewear it on his head. This act demonstrated her acceptance of the proposal.
Step 5: BLING PLEASE
On the instructions from the Alaga Ijoko, she was asked to pick the gift she wanted from the many dazzling selections brought by her in-laws. (In this case, a list from the required items would have been giving to the groom's family prior to the engagement), she picked Qur'an (Muslim's holy book) as expected to which her engagement ring was attached. Then, she gave her husband the ring which he in turn put on her beautiful finger and we all cheered up as she displayed the ring on her finger happily.
Step 6: BRIDE PRICE
Various envelope containing the bride price to money for the wives, children and elders in her family was handed over to the bride's family. Commonly, this is a traditional practice as it's believed that both families have come together to become one as they are giving their daughter away.
Step 7: CUTTING OF CAKE
The engagement cake also known as akara oyinbo in Yoruba land was cut by the newly wedded couple. This cake cutting symbolises happiness due to its rich and sweet ingredients. Photography session was followed by the cake cutting and everyone took pictures with the happy couple.
Step 8: PARTY AND MERRIMENT
Final prayer was said by the bride's father and the occasion was brought to an end with lots of love, greetings, eating, music and dancing.
The Yoruba Wedding Engagement Lists
Yoruba engagement lists varies from family to family but there are some things that are common to them, these are:
42 Big tubers of yams
42 Big colanuts
42 Big bitter cola (orogbo)
42 Pieces of dry fish
42 Pieces of alligator pepper (ata're)
2 Bottles of honey
2 Pairs of shoes and bags
2 Scarves
1 Wrist watch
1 Bible or Qur'an (depends on the bride's religious belief)
1 Engagement ring
1  Big suitcase
1 Traditional aso-oke
1 Big dish of aadun
1 Bag of salt
1 Bag of sugar and
1 Umbrella
Final Reflections on the Traditional Yoruba Wedding Experience
Yoruba traditional wedding brings different kinds of people together in the society because, everyone who attended the wedding was well dressed in Yoruba attires.
It also brings love as varieties of Yoruba foods was served and everyone really enjoyed and appreciated the moment.
Yoruba traditional marriage ceremony to a serious affair is full of playfulness, rich contemporary Nigerian music, graceful colors and sumptuous meals, also the fun, merriments, love and lively discussions were always so fascinating and memorable. It is an occasion to show best outfits, handbags, jewelry and to cap it all, best dancing steps.
The bride was carried to her husband's house at around evening with some wives who followed her. This was the normal practice as it was said that, they needed to know the kind of home and new environment their daughter was going to live. So they followed her and returned the following morning to give the bride's family a feedback of what the environment looks like.
So, that was how big sis got wedded to her beloved husband and I returned to my house a day after.