Applied Worldwide is offering quick service advertising at rates as low as $20 USD!!!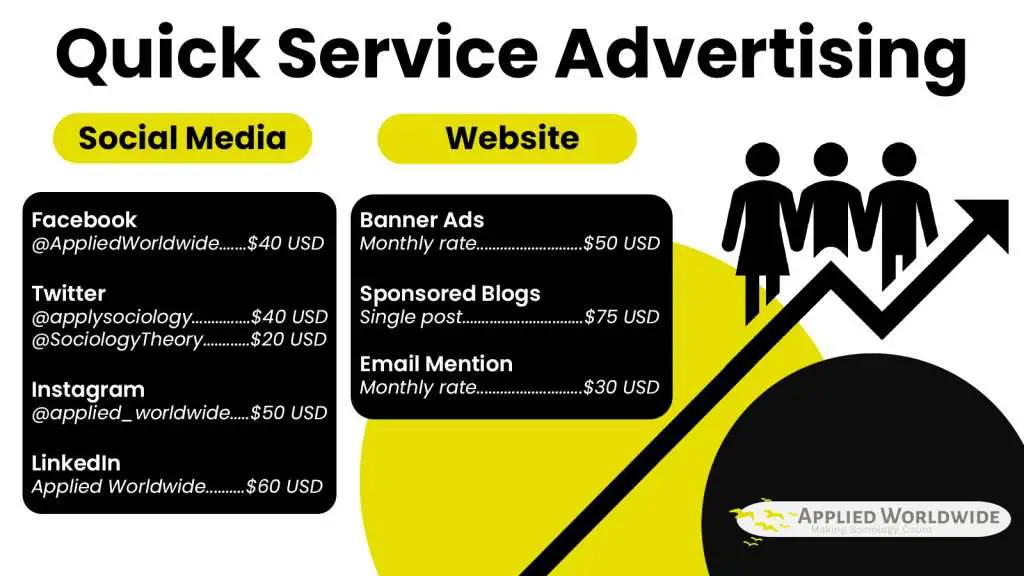 Our quick service advertising products give you the flexibility to build your own advertising campaign. You can order individual social media posts, focus your entire campaign on our website, or simply order an advertisement to be sent to our email list. Browse this page for descriptions of all our quick service products!! 
We specialize in publishing internet and social media content designed to demonstrate the practicality and value of sociological skills and services.  By partnering with organizations and individuals across the globe, we are able to produce local content for a global audience!
---
Social Media
---
Twitter
Twitter is one of our most popular social media platforms. Twitter posts are best suited for reaching a broad audience. We maintain two separate accounts @ApplySociology and @SociologyTheory. A majority of sponsored posts are best suited for our main business account @ApplySociology. 
For just $40 USD we will post a custom sponsored Tweet drawing attention to your brand and directing traffic to your website. Create a release for your new book, program, or other project on our Twitter page to create buzz in the social science community.
In special cases we will post sponsored Tweets to our @SociologyTheory account. We have extra selective measures with this account. Sponsored posts suitable for  @SociologyTheory include academic programs, educational projects, non-profit organizations, or job postings related to sociology or social science.
Instagram
Instagram is one of our most engaged platforms. With an audience of students and people early in their careers, professional development posts can be highly successful on our Instagram account. 
We take the time to carefully craft images and copy that help your ad stand out to our Instagram Audience. This is an ideal platform to advertise your job posting, new book, call for membership, or recruitment for your graduate school program.
Facebook
Our Facebook following has been consistently growing since Applied Worldwide was founded. We have an audience of mostly students and university faculty, making this a great platform to advertise your publication, university, products, or services.
LinkedIn 
LinkedIn is a great place to connect with professionals looking to advance in the professional world.
While linkedIn campaigns can be expensive, this type of environment is ideal for generating leads on job posts, recruiting membership for your professional organization, or connecting your business with professionals working in social science fields.
---
Website
---
Banner Ads
At Applied Worldwide we use an automated system that shows ads most relevant to the interests of individual users. This approach helps to efficiently place your banner ads in front of the people most likely to be interested in your brand, service, or product. For a flat rate we will flawlessly integrate your ad into our website!!
Blog Post
One of the ways to best get the word out about your brand, product, or service is to write extended copy in the form of a blog. This writing should be 500-800 words describing your brand and should include a clear call to action. Sponsored blog posts are great for fundraising campaigns or other projects where extended context will help generate leads.
---
Email List
---
We use our email list as a means of communicating recent and future projects with our audience most engaged audience.
Using our email list, you have the opportunity to provide an engaged audience with additional context about your organization. What are your goals? What are you exactly offering? 
This is a chance to really sell your brand, product, or service!
---
Contact us Today!
---
With Applied Worldwide's Quick Service Advertising you have the flexibility to build your own ad campaign, at standard low rates. Generate leads for your organization or campaign now! To get started with your free consult, email us today at AppliedWorldwide@gmail.com!